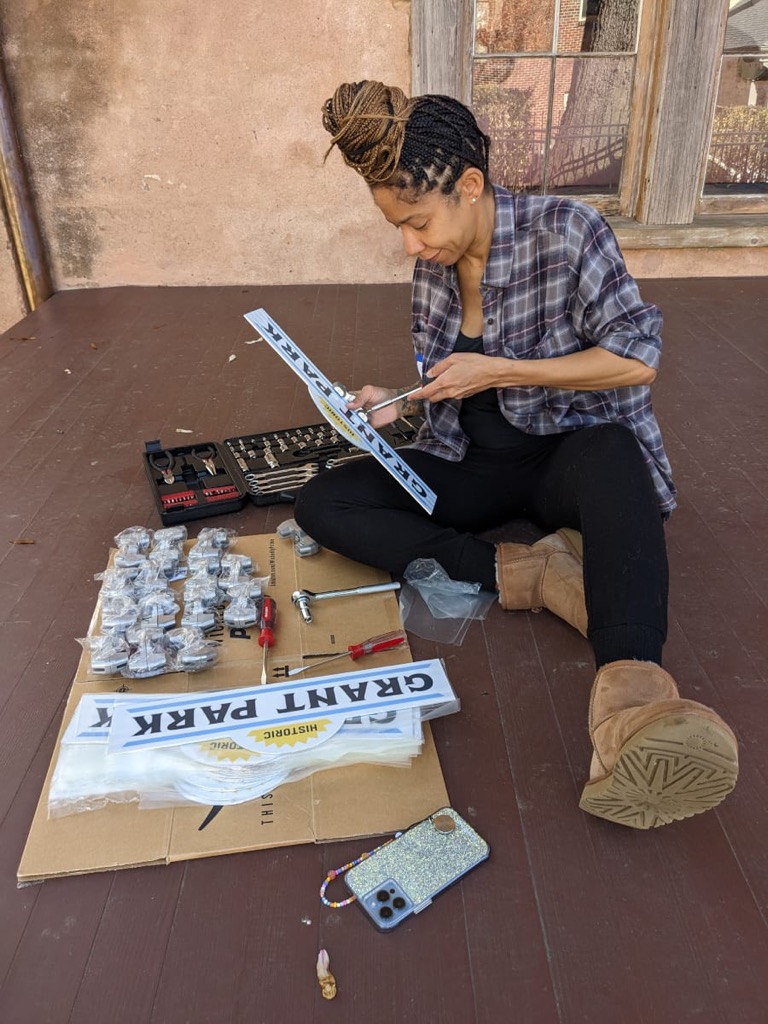 By Phil Kelly
In the fall of 2021, the Grant Park Neighborhood Association's Homes & History Committee asked the Transportation Committee if we could take on the work of the Sign Topper update project. Since then, we worked hard to understand the City process for the project and worked as a community to create a design with the help of volunteer graphic designer Courtney Garvin, fundraised through community sponsorships and a City Community Impact Grant, and partnered with the Atlanta Preservation Center to secure a permit for volunteer installation. We are proud to announce that we have successfully installed 200 sign toppers! This project requires continual upkeep so as we await fixes on sign poles from the City before installing the last dozen intersections, please email transportation@gpna.org throughout the year if you notice a missing sign topper as we have extra sign toppers on hand for replacement.
A most grateful thank you to our Sign Topper Installation volunteers: Kiana T, Skyler H, Michael H, Todd N, Pat B & Rick S, Maura K, Rob S & Catherine M, Sarah B, Lyn H, John Ryan & Drake, Rachel & Marty, Thomas & Chris and Noah, Devin V, Laura K, Laura G, David & Niamh of the Atlanta Preservation Center for hosting, and Dr. Elango of MEDICI for sponsoring the food for our volunteers.
Most importantly, thank you to our nearly 140 Sign Topper Sponsors who over the last year have made this project possible, be they current or former neighbors, community businesses, or just supporters of our neighborhood:
Evelyn & Rich Pannell; ARK Leadership & Chris, Thomas, and Noah Ryan-Lawrence; Jennifer Wilt; Loyal Charles; Mark Dawson & James Larson; The Hatch Family; Ashley Kinsey, Travis Thomas, Melissa Artley, Karley Wilson (Cherokee Heights Homeowners Association); Benjamin Estes, Caro Lunney, Shaun Yurcaba, Heather Novotny, Colleen Rickel, Danielle Johnston; Bill and Jo Moore; Brad Nevin & May Youngblood; Caroline Mahoney; Chris Murphy, Tyler Freeman, and Austin Hayes; Craig & Holly Miller; Desiree Bartosiak, Tim Mulkerrins, & Jackson Mulkerrins; Elena & Thomas Allmeroth; Eliana Salas & Jason Alvarado; Geoff Milspaw & Brittany Holian; Jake Schrodt & Laura Terrazas; James Reindel & Laura Keen; Jon Ratliff & Kristine Gabuyo; Kyle Bernstein & Remy Lemoine; Megan & Matthew Berendt; Ozzy, June & Bobbie Vermeulen; Rebecca, Elliot, & Daniel Grant; Round Here Renovations; The Hanley's; The Hutto's; The Martin Family; The Wilber Family; Zack & Nikki Zimmerman; Dean & Jennifer Robinson; @love_street_library; Linda Medsker & Terry Higgins; Marisa & Champ Hammett (3x Sponsor); Patrick & Laura Pease; The Knell Family; The Watkins Family; Coco Cone & Ricky Casal; John Ryan Alexander; Krys Burgess; Rob Smith & Carl Mattison; The Warner Family; Rebel Raw; The Kelly Family; Alli & Adam; Evan, Heather, Luke, & Beau Sheward; The Colley Family; The Benton Family; Republic Social House; The Adams Family; The Weeman Family; Oz Sabina; Nate & Shannon Shivar; The Angstadt Family & Trenton Crawford & Gene Gibbs; Chris & Kelsey Knight; Matt & Creedence Rossi; Tim & Rachel Fergus; Kirk & Jami Sieder; Michael & Heather Lott; Eleanor C. Harleston; Chris Gwin & Natalie Sandi; Claire & Andrew Kern; Richard Sanchez (2x Sponsor); Jennifer Zappia & Sam Woods; Genevieve McGillicuddy & Scott Henry; Pat Berryhill & Rick Schroeder; Elizabeth & Brian Karcher; The Van Winkle Family; The Ward Family; Kee Haspel; Vicki Shackley; Sarah Hicks & Andy Harmon; Matt & Susan Wade in honor of longtime Grant Park residents Ron Humphries & Robert Ladd; The Dojnik Family, Coss Family, & Kopp Family; James Wolynetz; Quasi & Sophie; Wes & Rachel Cain; Melinda Langston; Cindy Comisky; Christy & Murry Ford; Hannah Perry; Gigi & Alan Conner; Nick Stephens & Callan Wells; Carey Glasscock Realtor; Eli & Lindsey Cohen; Dakota Blue; Benjamin Gardner & Justin Cavender; The Schwartz Family; Hunter & Jennifer Moore; The Duval Family; Didi Murphy; The Sutton Family; Kim & Mike Rometo; Catherine & Parker Sanders (2x Sponsor). Mia Fields & Vikki Coleman. Gary Hawsey & Jay Hadlock. Matt & Kathryn Totten, MEDICI Urgent Care & Wellness Center – Dr. Elango (2x Sponsor); Andy & Elaine Perez; Bryan & Angela Russell; Greg Vilines & Rachel Mewbron; Mboh, Sakani, & Bijoux Elango; Andrea Criste & Constance Garrett; Amanda Wolkin & Seth Furman; Anne & Johnathan Stanford; Melanie Woodward; Ed Routh; Doug Thomas & Parry Miller; Laura & McLean Jenkins; The Wootens; John Powell, Rob Abraham, & Hanks; Steve & Kathy Johnson; Carole Keith; Perry Goodfriend; The Urrutia Family; Hannah & Jeff Gradolf; Glenn S. Wrightson; Linda Rosenbaum; The McKinney Family, Republic Social House Owners – In Appreciation for Richard Harker & Historic Oakland Foundation; Brian & Leslie Grant; Lillian, Cawley, Cathy, & Justin McWhorter; The LoPilatos & Macdonalds; Andrew Kessel & Maya Fayfman; Dario, Ceci, & Willow Tonelli; Matthew & Jordan Walker; Craig Espeseth; The 600 Block Families of Killian Street; The Crosby Family; Smita Premkumar; Mike Sanders & Jason Jones; The Lennons; Coralys Rodriguez & Logan St Neighbors; The Tran Family; The Tennyson-Becher Family; and finally, the 46 intersections that were supported through a 2022 City of Atlanta Community Impact Grant and the 2014 Woodward Mansion Street Topper Fundraiser.