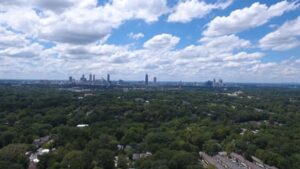 By Christina Gibson
East Atlanta Village is proud to have been chosen to be Trees Atlanta's 2017 Neighborhood of the Year. The neighborhood will be recognized at the 4th annual Root Ball on May 18. At 46 percent canopy coverage, East Atlanta is being honored for its dedicated efforts to preserve and enhance the tree canopy in Atlanta.
Many Atlantans are alarmed by the rapid loss of trees in town these days. Buzzwords like "good urbanism," "high density," and "sustainability" pepper many conversations and marketing materials about new development in Atlanta. But our urban forest, and our corresponding civic identity as the "City in the Forest," suffers from rampant tree loss. This current reality begs the old adage: Are we literally missing the forest for the trees?
The question is simple: How is Atlanta going to grow with its trees? We have the chance to write that narrative now while we have remnant greenspace to work with from the side effects of urban sprawl. Trees Atlanta will continue planting trees everywhere they can, but simply cannot keep pace to mitigate the dwindling tree canopy without working together to actively protect existing forest, too; both are necessary in the present environment.
Currently, the cost of removing a healthy tree in the City of Atlanta is $100 per tree, plus $30 per inch diameter at breast height, or replanting inch for inch. For builders, this is simply the cost of doing business. Let's acknowledge the public health benefits provided by healthy trees and soils, and assign more appropriate values accordingly.
When discussing design alternatives with builders and developers in your neighborhood, look for opportunities to achieve density vertically rather than horizontally, if it affords for existing trees and quality greenspace to be incorporated into the plans.
English ivy and Chinese wisteria vines are slowly suffocating our trees, or in some cases, present enough of an imminent threat that trees may be easily written off as "dead, dying, or hazardous" (DDH), according to the tree ordinance, and removed.
Imagine a network or a ring of publicly accessible, protected community forests, cherished by all Atlantans in the same way we love our city parks. Development and conservation need not be mutually exclusive, and in fact, we cannot afford to take that polarizing approach any longer.
Contact Dave@treesatlanta.org for a focused discussion about trees in your neighborhood.
Christina Gibson is the canopy conservation coordinator of Trees Atlanta.