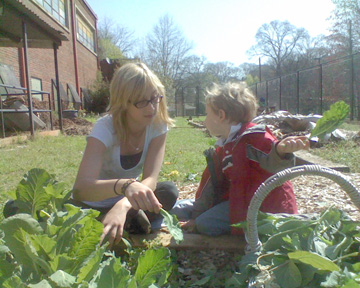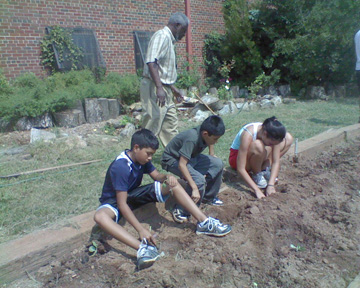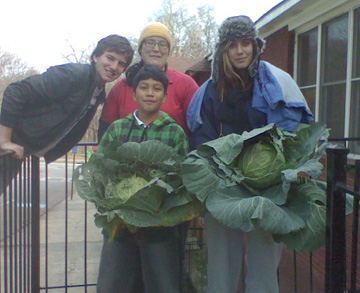 By Pamela Showalter
Actually, they are double digging it. Students at St. Nicholas Orthodox Academy are growing into gardeners while they prepare for college. The school is ready for more gardeners and is opening its doors this coming year to the young student. St. Nicholas is offering a kindergarten-through-second-grade cluster class as well as the ongoing high school program of studies. All are welcomed to the open house on Tuesday, April 19 to visit with teachers and parents, see the classrooms, and view the curriculum.
The school is across from Grant Park at the corner of Cherokee and Orleans in classrooms at St. John Eastern Orthodox Church. Entrance is made from Orleans Street. Visit the St. Nicholas website at www.stnicholasacademy.org.
According to Sylena, a junior, "This garden is a special garden. It's been in my life for about four years. This garden has lots of wonderful memories, like digging the little pond (eventually a certified Wildlife Habitat for Frogs) and planting trees around it which have now grown to be huge, luscious green trees giving plenty of shade. And the awful smell of digging the compost. But that gross compost is what helps those beautiful plants grow. I love this garden." Brandon, a senior, explains, "Watermelons in the summer and early fall, tomatoes in the fall, snow peas along the fences in early spring, the garden is just an interesting and unique place to go."  For the past eight years the St. Nicholas garden has been located at Hill and Milledge Streets on the south face of the former Boys and Girls Club gym.
Gardening for St. Nicholas students, works to make learning a three-dimensional experience with tangible demands and physical fruits of their labors. These students are double diggin' it. Come by the open house and find out more.