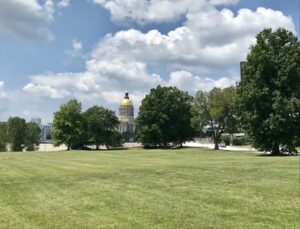 By Katherine Huded, Friends of Memorial Drive Greenway Communications Volunteer
Friends of Memorial Drive Greenway, the group of community leaders working to expand, improve, and activate the iconic civic greenspace along downtown Atlanta's Memorial Drive corridor known as the Memorial Drive Greenway, announced a capital campaign to raise $200,000 in support of the proposed 12-acre linear park. Once completed, the park will reconnect five downtown Atlanta neighborhoods, including Downtown, Capitol Gateway, Grant Park, Old Fourth Ward, and Cabbagetown, and cap the I-85/I-75 connector.
In association with Park Pride, the Atlanta-based nonprofit that engages communities to activate the power of parks, the Friends of Memorial Drive Greenway will allocate funds for near term improvements to existing park parcels, as well as host community events to activate those parcels along the revitalized Memorial Drive corridor from Boulevard to Capitol Avenue. The capital campaign kick-off event will be held on September 12 at 7:00pm as part of the regular Movies on Memorial outdoor film series, located on the Memorial Drive Greenway at the corner of Memorial Drive and Grant Street.
The capital campaign seeks support from both private and corporate donors to reach a goal of $200,000 by December 2018, the first in a series of milestones toward a total goal of $1 million by January 2021. Donations may be made at bit.ly/MemorialDriveGreenway. For more information about the Memorial Drive Greenway, capitol campaign or upcoming events, visit www.facebook.com/FriendsofMDG.
Funds will also be allocated to support land acquisition efforts for the remaining parcels needed to complete the linear park. Parcels and improvements are outlined in the community vision for the park, as presented in the 2017 Final Conceptual Plan, developed by Park Pride through its Park Visioning Program. The plan may be viewed at www.parkpride.org/final-concept-plan-for-memorial-drive-greenway.
"Our Park Visioning Program utilizes a model for park design that is rooted in the community," said Andrew White, director of the Park Visioning Program. "This park will run through five neighborhoods, so we wanted to make sure that everyone in those neighborhoods and in the larger Atlanta community had an opportunity to weigh into this plan. Our measure of success for a great park is whether it becomes well-used and well-loved, and Memorial Drive Greenway certainly has the potential to serve as a town square that connects and strengthens all of these neighborhoods."
"This idea for creating a park between the Capitol and Oakland Cemetery has been kicking around for as long as I've been involved in the community," said John Reagan, a Grant Park architect and developer since 1971. "After decades of fits and starts, we're finally getting to the point where public and private investment in the area are coming together at the right time to make this park happen and it's exciting. I hope everyone will come visit the park, see its potential, and get involved."
Added District 1 Council Member Carla Smith, "Residents of Grant Park and other District 1 neighborhoods have been working for years to lay the foundation for this park, such as the creation of the SPI-22 zoning district in 2006." "We look forward to growing the coalition to activate and build out Memorial Drive Greenway."
The City of Atlanta Department of Parks and Recreation currently owns and manages nearly one-third of the land parcels within the proposed Greenway, which are presently designated as park space. Funds from the Eastside Tax Allocation District (TAD) would enable future acquisitions of proposed park parcels, while the proposed interstate cap would require both state and federal support.
"There are very few places left in the core of the City with so much potential to create a transformational greenspace for future generations," said District 5 Council Member Natalyn Mosby Archibong. "We're working with our partners at the City to execute this vision, but it's vital to have grassroots supporters putting their time and money behind it through this capital campaign."
The Memorial Drive Greenway is one of many projects and proposals aiming to heal the north/south gash created by the I-85/I-75 interstate through Atlanta's Downtown, Midtown, and Buckhead neighborhoods. The residential and business communities' desire to reconnect the city to itself is evidenced by the completed 5th Street Midtown Bridge project, as well as proposals for "The Stitch" Downtown Cap, the Memorial Drive Greenway Downtown Cap, and the Path 400 Buckhead Cap.
"The Memorial Drive Greenway proposes one of the most significant structural and economic changes to the historic core of an American city in the modern era," said Jeff Gordon, international landscape architect and resident of Grant Park. "The linear park addresses issues of mobility, connectivity, unity, history, and civic engagement in and around Downtown. Taken together, these transformations of Atlanta's center will both increase the quality of life for its residents and make Atlanta more attractive to visitors and business relocation."
Friends of Memorial Drive Greenway (MDG) is a group of volunteer community, nonprofit and business leaders who actively work to expand, improve and activate 12-acres of proposed linear park greenspace along the Memorial Drive corridor to downtown Atlanta known as the Memorial Drive Greenway, connecting the Georgia State Capitol to Historic Oakland Cemetery. Founded in 2015 to revive and re-vision a more than 40-year-old greenspace proposal, Friends of Memorial Drive Greenway is part of the Friends of the Park program of Park Pride, the Atlanta-based nonprofit that engages communities to activate the power of parks.