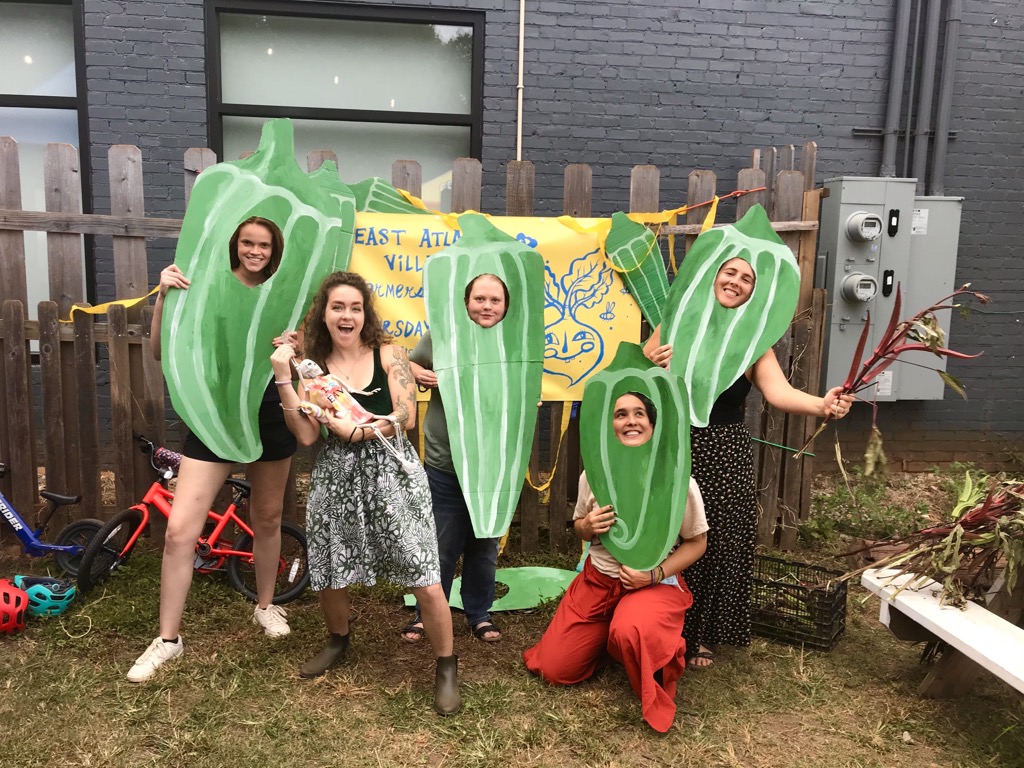 By Carlen Ruth Hultgren
The temperatures are finally dropping, and the East Atlanta Village Farmers Market (EAVFM) welcomes the cooler temps and the following events all happening at everyone's favorite Thursday evening farmers' market.
Coming up first on Thursday September 14, is the third annual Fall Plant 2 Plate Sale, as always, in partnership with Love is Love Farm and Wholesome Wave Georgia. The sale is open to everyone, however, anyone using SNAP/EBT to purchase plants gets 50% off and grow kits, plus compost, while supplies last as an added benefit. Launched in April 2020, Wholesome Wave Georgia's Plant 2 Plate events provide families using SNAP with an easy and affordable way to grow local, healthy food at home.
Learn more at www.wholesomewavegeorgia.org/georgiaplant2plate.
September 21 is the return of a longtime local favorite, the 13th Annual Okra Day. Join your neighbors and friends at the EAV Farmers Market, for a family-friendly, free event in which all things okra are celebrated. There will be live music, fried okra demo, and other samples by market chef Taylor Mead, okra specials, kids' activities, and prizes. Make okra slime with Market Manager Katie or take home your own dried okra pod to save seeds to plant next year. Fresh okra from Cosmos Farm and okra specials from your favorite hot food vendors like Mik Chans, Lil Tamale Boi, GOAP, Cheffrey's Kitchen, Labodega Pupuseria, and more. Can't wait to celebrate okra? Check out the Farmer's Market okra recipe e-book at https://cfmatl.org/wp-content/uploads/2021/09/FFOkra-E-Book.pdf to get inspired and get cooking.
Moving into autumn, on October 12, a new event, Pepper Palooza, is in the works. It will be in partnership with A Sip of Paradise Garden and another organization. Look forward to special spicy cocktails, mocktails and snacks made with, you guessed it, peppers.
EAV-O-Ween returns to the EAV Farmers Market on October 26. Kick off your Halloweekend festivities at the Farmers Market, with a free costume closet, photo booth, shadow puppets, turnip jack-o-lantern carving, spooooky vendor specials, and more. The pumpkin patch is pending, more info next month. Costumes are encouraged every Thursday at the Farmers Market, but this one, especially.
As the EAV Farmers Market season comes to a close, they will once again host the Giving Thanks Potluck on November 16. Put that date in your calendar. The extremely popular community gathering features food and drinks and joy and music and neighbors, at the last official Farmers Market of the year.
Come out and support your EAV Farmers Market, every Thursday, March through November, 4:00pm to 8:00pm, 572 Stokeswood Avenue, right in the middle of East Atlanta Village.