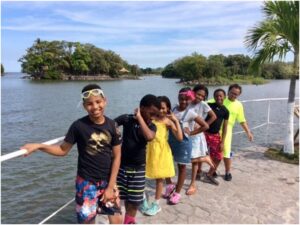 By Asiaa Karriem
During the week of March 26 through April 2, nine fourth- and fifth-grade students from Burgess-Peterson Academy (BPA) embarked on their second annual, week-long study abroad trip to beautiful Granada, Nicaragua to study Spanish, geography, economy, and culture. Burgess-Peterson students receive Spanish language instruction from teacher Asiaa Karriem, who first introduced and executed the study abroad program during the 2016-17 school year. In Granada, students receive 20 hours of age and developmentally appropriate Spanish instruction at Casa Xalteva, a local school that teaches area kids and international students. Spanish lessons are taught immersion-style with Nicaraguan teachers trained in teaching Spanish as a second language. Students learn in a relaxed open-air environment with direct instruction, learning games, group conversation, and excursions.
Each day our group experiences the geography and economy of the magical city of Granada. Students learn about the volcanoes, bodies of water, and the vegetation. Activities include trips to two volcanoes, dormant Mombacho and active Malaya, ziplining, hiking to a natural spring, an island boat tour of Lake Nicaragua, the largest lake in Central America, and a visit to Laguna de Apoyo.
Back in Granada city and the Masaya district, BPA students begin to understand the degree to which the people depend on the land for natural resources in the processing and selling of products and using their artistic talents to make handmade hammocks, visual art, and other goods to be sold in local markets.
No language study is complete without a look into the culture that anchors it. We have close contact with the churches, people, dance, food, art, and games of this beautiful city and during each trip, we visit several landmark Catholic churches throughout the city. We see how the people celebrate holidays of importance with parades, festivals, ceremonies, dance, food, and art, giving the students ample opportunity to soak in the energy of the city and its inhabitants.
This amazing, adventure-packed, one-week immersion program was made possible with community donations, GoFundMe campaigns, and organized school fundraising events. All funds raised go directly toward offsetting the cost of this trip of a lifetime.
BPA is a school in the Jackson Cluster of Atlanta Public Schools. We strive to be the neighborhood school of choice as well as a compelling traditional public-school option for the child of any family living in East Atlanta Village and Reynoldstown. For more information, please call 404-802-3400 or visit www.atlantapublicschools.us/bpes.