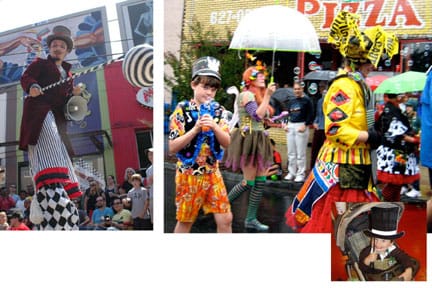 By Johnathan Barhite
The East Atlanta Strut (www.EastAtlantaStrut.org) is a free, volunteer-run neighborhood festival that celebrates and promotes the diversity of art, music, food, drink, funkiness, and family that is East Atlanta. The festival provides a day of fun for all ages. All festival proceeds are put back into the neighborhood and its community outreach.
The 2012 highlights include:
Live Music – Four stages, featuring more than 30 acts, showcasing the best in local music. An eclectic mix as diverse as the EAV neighborhood.
Armor Tire Classic Car Show – Muscle, hot rods, and classics from around the neighborhood. If you would like free entry for your car or motorcycle, please e-mail music@eastatlantastrut.com. Yes, the same fun team putting on the music is putting together the classic car show. Enter your vehicle, bring a shade tent, and tailgate in the festival footprint!
Carnival Stalls – EAV's own boardwalk featuring dunk tank, plate smashing, toilet toss, and various games of skill.
Kid's Village – This year's theme is Alice in Wonderland. Come enjoy the wonder and excitement – arts and crafts, face painting, balloon art, activities, games, and more.
The Strut Parade – Kicks off at 2:00pm and has a longer route this year to spread out the enjoyment of the most fun and funky groups from East Atlanta and the world! Gather to watch on Glenwood for a great viewing spot. It's also not too late to join the parade. Trophies are awarded in various categories, including best bicycle group, kids group, and–new this year–best celebration. Gather friends and mark a birthday or other special occasion by strutting your stuff! E-mail parade@eastatlantastrut.com for more info.
Love to volunteer? Want to celebrate with the community? There are still spots available. Sign up at http://eastatlantastrut.com/volunteers. For media and marketing, contact KommuneGroup@gmail.com.