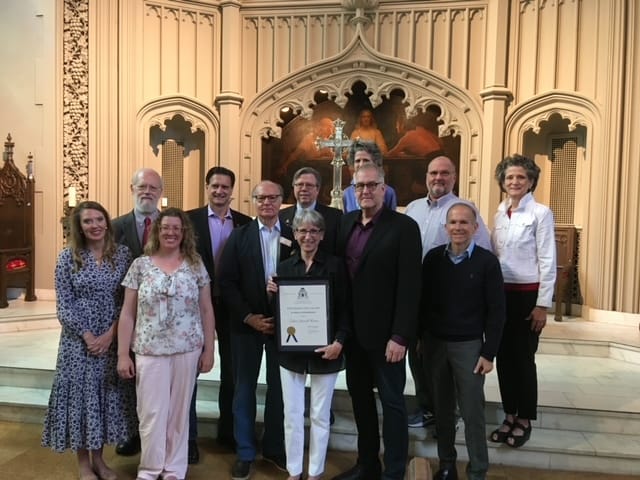 By Jennifer Murray
The Georgia Trust for Historic Preservation presented 15 Excellence in Rehabilitation Awards, recognizing the best of preservation in Georgia, during its 46th annual Preservation Awards ceremony in Atlanta on April 22. The awards recognize projects that make compatible use of a building through repair, alterations or additions while preserving features of the property that convey its historic value. Jennifer Murray and Marc Dobiecki received an award for their work on the Zuber-Jarrell House located in East Atlanta on Flat Shoals Avenue.
The son of German immigrants, and owner of the Zuber Lumber Company, John William Zuber built the neo-classical Zuber-Jarrell House in 1906. The Zuber family lived in the house until 1927. Ten years later in 1937, John Jarrell purchased the house where he and his wife, Francis, raised five children throughout the 1960s and 1970s.
The Jarrell family lived in the home until 2003, when Jenny and Marc purchased it. Since then, they have worked to painstakingly rehabilitate every inch of this historic home. Major projects included updates to the mechanical, electrical, and plumbing systems, replacement of several roofs, restoration of the widow's walk, side porch, bathroom, windows, reconstruction of the porte-cochere, and plaster repairs throughout the interior.
Founded in 1973, the Georgia Trust for Historic Preservation is one of the country's leading statewide, nonprofit preservation organizations. The Trust works for the preservation and revitalization of Georgia's diverse historic resources and advocates their appreciation, protection, and use. The Georgia Trust generates community revitalization by finding buyers for endangered properties acquired by its Revolving Fund and raises awareness of other endangered historic resources through an annual listing of Georgia's "Places in Peril."
"This year's winners represent a tremendous dedication to restoring and revitalizing Georgia's historic buildings and communities," said Mark C. McDonald, president, and CEO of the Georgia Trust. "We are proud to honor such deserving projects and individuals."
A contributing property in the East Atlanta Historic District, Jenny and Marc have graciously shared their rehabilitation process with The Georgia Trust, Georgia State students, and the East Atlanta community.