By Riki Bolster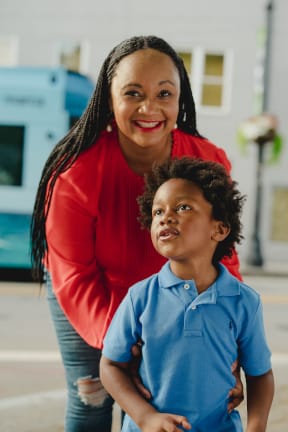 Even before the new Congress is sworn in on January 3, Nikema Williams is making a name for herself. She was selected to serve as president for the freshman class of Democratic members of Congress. Although largely symbolic, the honor reflects her attitude about her new position. "I know this seat does not belong to me, but to the people of the 5th District," she says.
Williams is very aware of the impact being a public servant has, not only on her constituents, but also on her family. She met her husband Leslie Williams during the 2008 presidential campaign, while he was working for Congressman John Lewis. "I was a Hillary fanatic," she says. "He kept showing up at the campaign every day so he could report back to Congressman Lewis. But he kept hanging around." They married two years later and now have a five-year-old son, Carter.
Williams will approach her new job with determination but will also keep her loved ones close. "This is a family affair," she said. "The work [Leslie] and I are doing is important so that Carter will have a good future. He will come with me to Congress."
As a child living with her grandparents in Smiths Station, Alabama, Williams learned her own lessons about the importance of voting and community involvement. She recalled one particular memory. "Before elections my grandpa and my uncle Willie James drove around distributing voter cards. I didn't realize then that it was community organizing. I just thought it was cool driving around in the back of the pickup." She also remembers her aunt and uncle working at the polls as well.
After graduating from Talladega College, Williams first came to Atlanta for Freaknik. After all, she says, "Atlanta was the place for young black people. I drove down I-20 looking for the Black Mecca." She stayed, working three jobs because "Rent was a lot more expensive in Atlanta." She got involved with the Young Democrats of Georgia and then the state Democratic party over the next eighteen years. She was elected in 2017 as a member of the Georgia State Senate for the 39th District and in 2019 became the first black woman to head the Democratic Party of Georgia.
Another first for Williams is her work in forming and chairing an HBCU (Historically Black Colleges and Universities) Study Committee. "As a graduate of an HBCU, I was looking at their importance in this country and wondered how Georgia could support these valuable institutions." She describes working across the aisle to get the study committee created and said, "I am willing and able to work with anybody except those who don't believe in my humanity as a person. I believe in living out loud and proud and will work with others as long as they work for those who are most marginalized."
How does she relax? "When I feel stressed, I pull out my phone and play Best Themes," she says, admitting it was Carter who introduced the game to her. She also listens to audiobooks, the most current title being the Purpose of Power: How to Come Together When We Fall Apart, by Alicia Garza. But then it's back to work, representing the Georgia Fifth District in Congress.