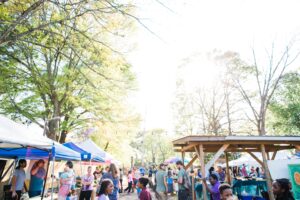 By Bang Tran
East Atlanta Village (EAV) Farmers Market has completely renovated the learning garden area in the back of the farmers market with more open space and areas for children to play, learn, and garden. Throughout the season, the market will be expanding the area further to create an inviting and safe communal play and learning space for East Atlanta residents and neighbors. The market will continue to ask for community input as to what the neighborhood would like to see added.
Chef Julia Schneider is the new Educational Market Chef for the season, and as a longtime resident who has spent time cooking all over Atlanta, she brings a great deal of expertise on local and seasonal produce, as well as creative recipes. Find her making vegetarian tacos, soups, and more. Visit her every market to try a sample and learn from an expert.
New vendors for the season include handmade pasta sauces from Frik and Frak Foods, fresh breads and baked goods from The General Muir Bakery, fresh salsa from Hope Salsa, goat milk and soaps from Casey's Goats and Goods, and more. As always, you'll find vegetables, fruits, and meats grown naturally by local farmers too
EAV Farmers Market is held every Thursday, 4:00pm to 8:00pm, at 572 Stokeswood Avenue. EBT is accepted and matched. $10 EBT is worth $20 at market.