By Shannon Sanders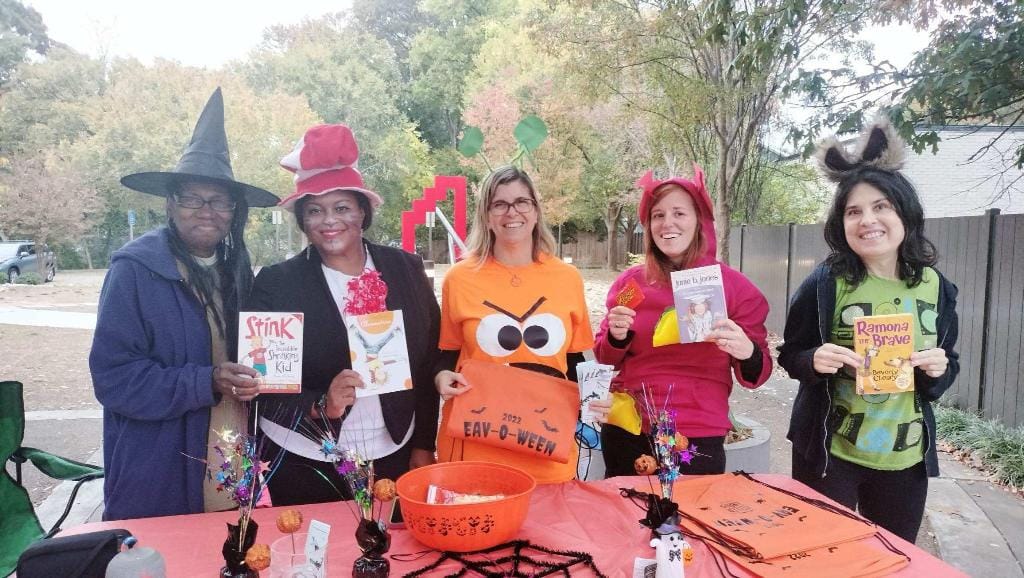 The Friends of the East Atlanta Library (FEAL) supports programs and efforts specific to the East Atlanta library branch. We love being part of the community and participated in the EAV-O-Ween this year and had so much fun.
This year, we started a book club for the community after a successful Library system-wide
book club. Our group has sponsored things that the library system does not have in its budget, including summer reading programs this past summer, bilingual storyteller this fall, movement classes this winter for older adults, staff holiday luncheon, a Library Workers Appreciation Week breakfast, and other events for the library, its staff, and patrons.
For the holidays, FEAL is hosting a "Holiday Movie Night & PJs" for the kids at the East Atlanta Library on Monday, December 19, 4:00 – 6:00pm. We'll be showing "Santa's Boot Camp" a movie that stars our very own board member and longtime East Atlanta resident, Doug Kaye as Santa! Kids can wear their pjs and we'll have popcorn and pizza. The movie night is free and open to the public.
We'd also like to invite the community to our Annual Meeting on January 28, 3:00-4:00pm. We will have a very short meeting and vote in board members. We'll have some light refreshments and snacks and have some time to socialize together.
The Friends Book Club meets the fourth Tuesday of each month from 6:30-7:45pm. We're taking a break for the holidays and will start back on January 24, 2023. The book selection(s) for January is a choice of books by Amor Towles: "A Gentleman in Moscow," "Lincoln Highway" and "Rules of Civility." At the meeting, the participants will choose the book for the next month. All are welcome to attend even if you haven't been previously.
For all of the events and happenings at the library, please follow our Facebook page – @friendsofeastatlantalibrary.
And don't forget to stop by the library and peruse our Book Sale Shelf for gently used books. It is available anytime the library is open. Select books to purchase, pay from your phone and enjoy. Books are $3 for hardbacks and $2 for softbacks and all proceeds benefit the East Atlanta Library. Donations of books are always welcome.
We invite you to support the East Atlanta branch by visiting our bookstore and also becoming a FEAL member at www.friendsofeastatlantalibrary.org. Membership is tax deductible, and all proceeds directly support our East Atlanta branch.