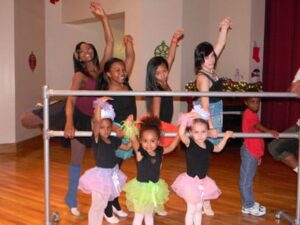 By Jean Hallman
Ariel Turner will be teaching ballet at Dance 411 Summer Dance Camp for Kids starting in June. Turner joined Dance 411 in 2008 to intern and gain hands-on experience in the administration field of dance. She also desired for her little sister to begin dance classes. The passion to grow her job skills and see her sister grow in dance has lead to her working with the kids' program. Turner is now a kids' program instructor and the summer camp director.
"I love my job and the environment I work in everyday. There's so much more I look forward to accomplishing here and with the kids that come through daily," said Ariel Turner, Dance 411 summer camp director.
Ariel will be teaching classes daily at Kids Dance 411 2011 Summer Camp. Camp is for kids ages 4 to 13 and will run for 8 weeks starting June 6. Weekly sessions will run Monday through Friday, 9:00am to 4:00pm until July 29. The cost for camp ranges from $150 to $80 per week with discounts for multiple weeks purchased. Classes will include yoga, salsa, ballet, jazz, tumbling, hip hop, and more. Camp registration began in March and will continue as long as space is available.
To register for camp or learn more about Kids Dance 411, visit www.kidsdance411.com. You can also call the studio at 404-622-4110. Dance 411 Studios is located at 475 Moreland Avenue.