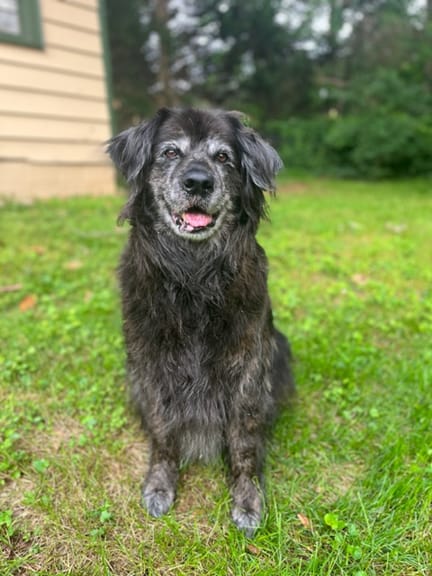 By Annie (Dog)
My Mom, Claire Stamm, got a new idea. She saw on that rectangular-thing-she-holds-that-must-not-be-named that some dogs can "talk" by mashing big buttons with their paws. So, she bought a few and put them in completely useless places like by the doors and my water bowl.
Mom got the wrong idea. But don't worry. I fixed it. First, I told my sister not to touch them. And she didn't. Second, I reminded mom that we communicate just fine without those button thingies. I just lick—like really lick—the water bowl. And just like that, she adds water to it. When I scratch the back door with my paw, she comes and opens it! My own personal open sesame.
Mom figured out she had a little bout of amnesia. So, when she remembered that we actually communicate wonderfully, she put those buttons away in a cabinet. I wish it had been the trash cabinet.
Mom tests her memory a lot to make sure she doesn't get amnesia again. Just the other day, she asked if I wanted to go outside or go on a walk. She told me I needed to choose. I know this game well. "Do you want to go outside?" She asked. I just looked at her. She knows walks trump outside any day. "Do you want to go on a walk?" I let out a good howl! "Or outside?" I just looked at her. She likes to repeat her questions. She needs reassurance. "Or a walk?" I humored her and howled again. "So, walk it is!"
Double howl, just for good measure 'cause I need to ensure mom doesn't get any more crazy ideas.