By Susan Westergard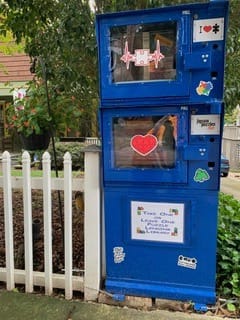 It all began with an idea springing from a need to connect with people during the 2020 COVID crisis—people isolated in their homes, wanting to interact in some way with friends or family. One day, we saw a story about how a family challenged another family to a "puzzle-off." Each family purchased the same jigsaw puzzle and whoever completed the puzzle first won the challenge. Well, we lost badly, but the upside was that we were now hooked on jigsaw puzzles. As our new passion flourished and our puzzle collection grew, we wondered how we could pay it forward and share our puzzles with neighbors and friends.
Being familiar with book lending libraries in our neighborhood, we wondered how we could create one for puzzles and so our search began for ideas. What became apparent was that there were many ideas, most of them expensive and challenging to create. And then the idea of using a newspaper dispensing box appeared.
As a retiree from the Atlanta Journal-Constitution, I thought surely there must be an old single-copy newspaper box somewhere out there with "our name on it." I went to the AJC website to see if I could send someone an email to ask about the availability of a single-copy box. Finding the name of Dave Thomas, Senior Director, Operations and Distribution, I wrote to him and a few days later, a message from Erica Singleton, Senior Director, Circulation Operations, was in my inbox: "Hi Susan, Dave forwarded your request to me to assist you. We have found a rack in our warehouse! Will this work? – Erica." Arrangements were made for pickup from the AJC warehouse and the team was so gracious, they even loaded the box into our car with little trouble and off we went.
The next step was to transform the box from a single-copy newspaper box to a puzzle lending library. Of course, that meant decorations. Then finding the right location, placing it where there was foot traffic and easy access in our neighborhood. We found a spot that was perfect, where the box would be unobtrusive and didn't require a city permit. The Puzzle Lending Library is now open for business and it is booming!
The neighborhood has been very welcoming and supportive. We've had a number of "deposits" and "withdrawals" and have really been excited to see the library being used by so many.
A huge thanks to Dave Thomas, Erica Singleton, Jonathan Montgomery, and Kevin Miles at the Atlanta Journal-Constitution for helping us make this lending library possible. Come visit the Puzzle Lending Library, located at 864 Gilbert Street.