By Nan Brinson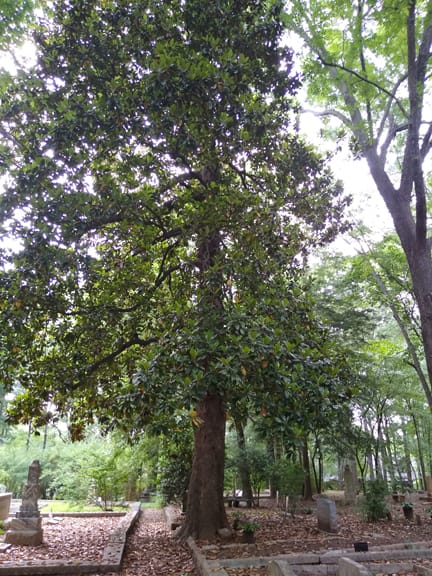 Atlanta loves a champion and East Atlanta has one in its own backyard; a champion southern magnolia, to be exact. Located in Sylvester Cemetery, the species is tied for second place in the city of Atlanta as Champion Tree, for its impressive size. It stands just over 80 feet tall, has a canopy of 60 feet, and is nine and a half feet wide, a true thing of beauty.
In 2021, when Nan Brinson first volunteered at Sylvester Cemetery, she noticed the tremendous size of the southern magnolia and remarked on its beauty to the cemetery manager, Jerry Semprivio. He told her that the family with burial plots near the tree wanted him to cut it down. The family was concerned that the tree might fall on the obelisk of their patriarch, who died in 1893.
On a mission to save the tree, Nan suggested contacting Trees Atlanta for help. If the tree were deemed a Champion, perhaps the family would not be as inclined to ask for its removal. Trees Atlanta provided a simple online form to nominate a tree as a champion.
Trees Atlanta requires three measurements: the height, the circumference, and the spread or canopy. The measurements were submitted in May 2021, and the organization was impressed by the size and knew immediately that the tree was a contender for Champion. Tabitha, a representative of Trees Atlanta, was dispatched to take exact measurements in July. Each measurement earns a number of points, and the points are added together to determine the ranking. This magnificent tree garnered a total of 209.38 points, placing it in a 5-way tie for second place. While Sylvester Cemetery dates back to 1838, it is believed that this magnificent magnolia pre-dates the cemetery, estimated to be at least 200 years old.
Fast forward to today. The southern magnolia is still going strong. The family hasn't mentioned cutting it down. And Jerry has installed a beautiful plaque to commemorate the tree. It gives the measurements and status as #2 champion. The tree towers over Section G, of Sylvester Cemetery, which is located at the corner of Braeburn Circle and Clifton Road in East Atlanta.
Sylvester Cemetery is maintained by the Historic Sylvester Cemetery Foundation, Inc., a non-profit organization consisting of volunteers from the East Atlanta neighborhood surrounding the cemetery. It is the location of the Strut sponsored Pushing Up Daisies Garden Tour and Concert each spring when the azaleas bloom. It is a popular location for an afternoon walk for neighbors and their 4-legged friends. Like to know more? Check out the website www.sylvestercemetery.org or email: info@sylvestercemetery.org, for volunteer and sponsor opportunities, or to "Adopt a Plot."