By Caren West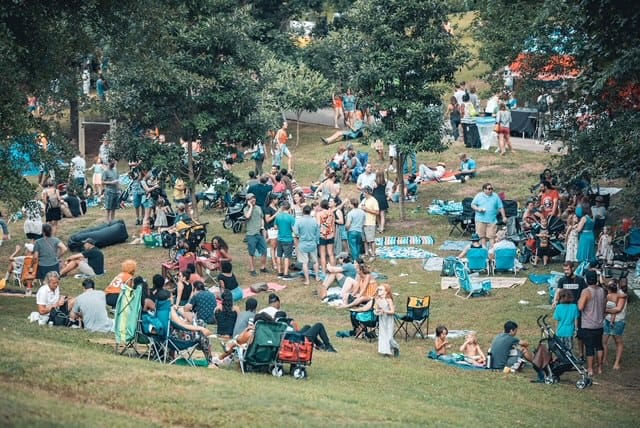 A favorite tradition, the Grant Park Conservancy Summer Shade Festival is thrilled to announce Southern Feedstore as the presenting sponsor for this year's event. The 20th annual two-day event features a free, family-friendly festival with live music, an artist market, food trucks, beer, and a 5K run. Southern Feedstore will help the Conservancy welcome music and art lovers to the park for two days of nonstop fun on Saturday, August 27 from 10:00am to 10pm and Sunday, August 28 from 11:00am to 7:30pm.
"Like the Grant Park Conservancy Summer Shade Festival, Southern Feedstore focuses on supporting local businesses, the surrounding community and Atlanta's rich cultural talent. This year is going to be an exciting return to pre-Covid fun and fellowship with great music, food and experiences," says Southern Feedstore co-owner Rafael Pereira, who also owns Brazilian coffee and cocktail bar Buteco in Grant Park.
"The Summer Shade Festival is a neighborhood tradition celebrating great food and great music, and brings friends and family together in beautiful historic Grant Park. I am so proud to have Southern Feedstore as our presenting sponsor," says Michelle Blackmon, Executive Director of the Grant Park Conservancy. "Southern Feedstore has already established itself as a welcoming neighborhood venue serving up delicious food and bringing fantastic music to the community. They, like the festival, help make Southeast Atlanta a great place to live."
The Grant Park Conservancy Summer Shade Festival is once again produced by and benefits the Grant Park Conservancy. The annual festival will feature an impressive lineup of live music throughout the weekend, an expansive artist market, Kids' Zone, the Adams Realtors Run for the Park 5K run, and other family-friendly activities. Open to all ages and free to attend, the event will also have a diverse selection of local food trucks and vendors with offerings for all tastes, cocktails and craft beers.
On Saturday morning at 8:00am, runners, walkers, and strollers are invited to take part in the annual Adams Realtors Run for the Park 5K, which includes a free kids' tot trot for ages 5 and under and a stroller stroll along the race course. Raising funds to support the Grant Park Conservancy, the course start and finish will be at the main entrance to Zoo Atlanta. Register today at www.adamsrealtors.com/run-for-the-park.
Additional details about the 2022 festival including the full performer lineup will be announced in the coming months. The festival is located at 800 Cherokee Avenue in the heart of Grant Park. For the most up-to-date information, visit www.summershadefestival.org. Stay connected on Twitter and Instagram at @GPSummerShade and Facebook at www.facebook.com/SummerShadeFestival.
The Grant Park Conservancy (GPC) is the nonprofit organization committed to the restoration, beautification, and maintenance of historic Grant Park. Created in 1883, Grant Park is the oldest park in Atlanta and covers 131 acres. The conservancy works to create a space of belonging where all are welcome and to restore and preserve the park's natural features while providing venues for active and passive recreation for all park visitors. Visit www.gpconservancy.org for more information.
Located in East Atlanta Village, Southern Feedstore has been delighting patrons since the turn of the New Year. The six-stall mini-food hall and live music venue, which takes its name from the feed store that occupied the building from 1927 until the 1940s, currently features Gyro Gyro's Greek delicacies, Waffle Bar's rich and delicious chicken and waffles, Woody's heavenly cheesesteaks, and Buteco's exotic Brazilian spirits and coffee. Continuing its tradition from its Grant Park location, Buteco also presents Atlanta's finest live music, including weekly karaoke on Mondays and open-mic on Tuesdays nights. Open seven days a week, Southern Feedstore is located at 1245 Glenwood Avenue. For more information visit www.sfseav.com and stay connected on Instagram at @sfseav and on Facebook at www.facebook.com/sfseav.