By Jessie Grande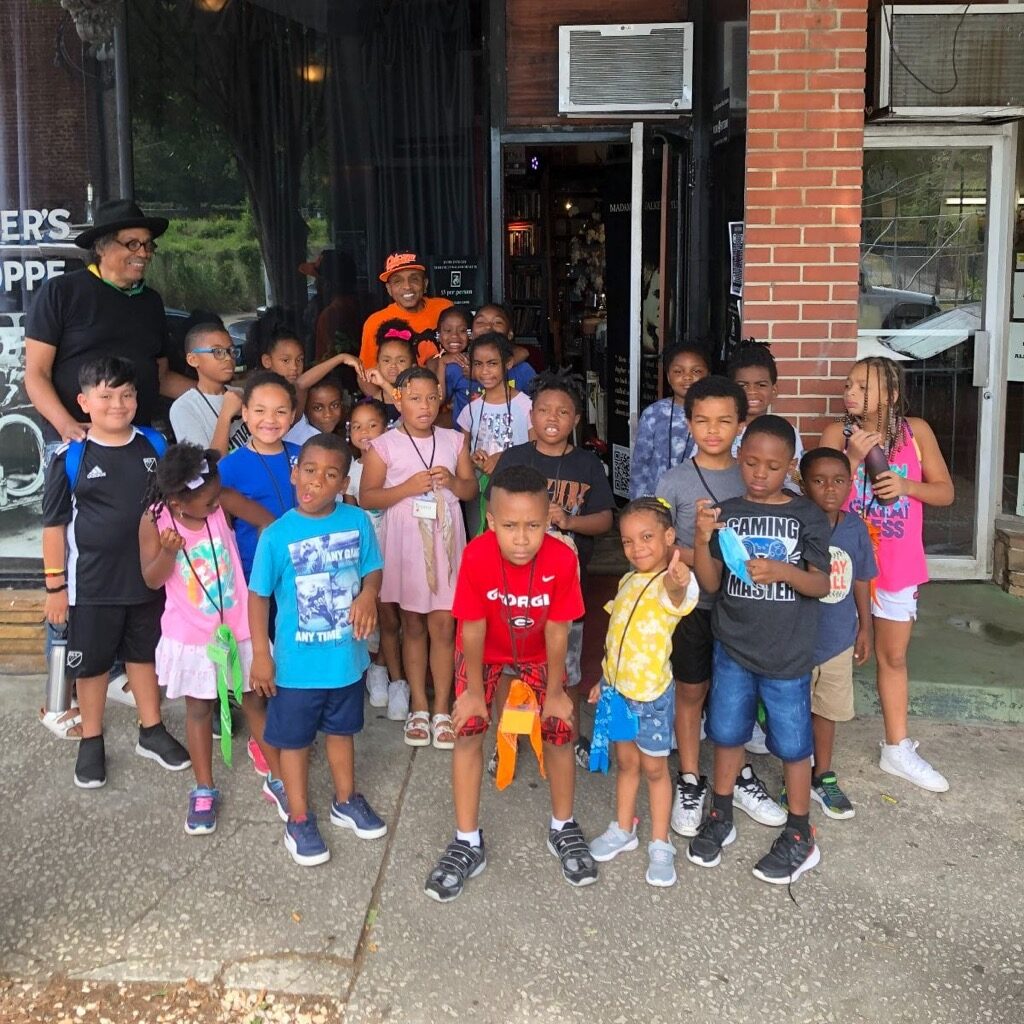 During June 20 through June 24, the Atlanta Preservation Center (APC) welcomed 30 elementary age students from the City of Refuge, in collaboration with a number of wonderful community and preservation partners.
Each day began at the L. P. Grant Mansion (APC headquarters) where the children learned the importance of historic preservation at the oldest house in the city of Atlanta (circa 1856). The goal was for the children to experience preservation through hands-on learning and by visiting local historic spaces.
The children made toys that children in the 1800s would have played with, and after bird watching with the Georgia Audubon Society, they made their own birdhouses.
This camp is free of cost and is made possible for these children by private donations from remarkable individuals and APC members.
The APC sends a special thank you to Ria's Bluebird, El Ponce, and Grant Park Market for helping with providing lunches. The organization is also grateful for its partnership with Zoo Atlanta, where the children spent each afternoon exploring while talking about the architecture and habitats within the Zoo. Some highlights were visiting the Living Treehouse, Willie B's conservation center, sketching the pandas, and visiting the Scaly Slimy Spectacular exhibit. Attendees also had an animal encounter with Chakana, a red-tailed boa constrictor, and got to ride the carousel and the train.
Th campers also visited the Madame C. J. Walker Museum and learned about America's first female self-made millionaire and African American philanthropist. The museum is also home to WERD studio, the first black-owned radio station in America.
The children danced to old vinyl records and got to meet and sing Celebrate with Chicago Mike, a member of Kool and the Gang. The APC thanks Ricci and Biondi de Forest for a memorable morning.
The campers spent one morning visiting Atlanta's oldest movie theater, the Plaza, in operation since 1939, and got a behind-the-scenes look at how a movie theater works. The children had a lesson on film history and watched clips of a 1961 Yogi Bear cartoon and silent films accompanied on the organ by the amazing Ken Double, who plays the organ at the Fox Theatre. The children also saw how a concession stand works and sampled some popcorn. The APC thanks Chris and Nicole Escobar and the wonderful team at the Plaza Theatre for an unforgettable experience.
Kiana Leveritte from the Georgia Audubon Society taught campers about birds in Georgia. They put on binoculars and explored the trees surrounding the L. P. Grant Mansion. Some of the birds spotted were Brown Thrashers, Chickadees, Mourning Doves, and a Blue Jay.
None of this would have been possible without the APC's generous partners including Zoo Atlanta, City of Refuge, Ria's Bluebird, Grant Park Market, El Ponce restaurant, Plaza Theatre, and Georgia Audubon.