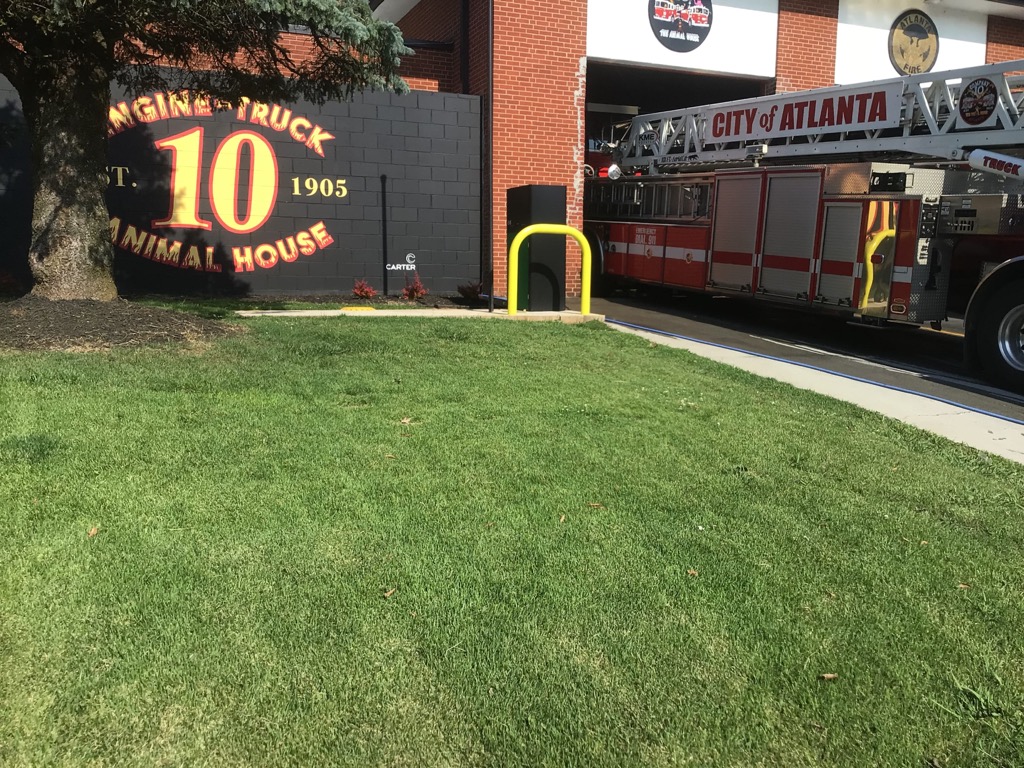 By John Prevost and Chris Newman
John and I (Chris) met out front of the fire station at 10:00am. We scheduled a conversation with Captain Sullivan, the Officer in Charge of Fire Station 10. Our goal is to present two articles about the role of the station and their numerous tasks with the various fire suppression calls, medical emergencies, hazardous materials calls, and rescues. At the door we were greeted by several of the firefighters who informed us that Captain Sullivan was out on a call and would be returning shortly. His engine crew greeted us warmly, invited us in, and offered us coffee. Staff can be seen outdoors mowing the lawn and maintaining the appearance of the building. The staff at Station 10 take great pride in the appearance and functioning of their building. New roll-up doors and a mural were recently installed.
Station 10 is known as, "The Animal House" for its proximity to the Zoo. There are murals and signs of their motto throughout the station. We were invited in and offered a place to sit as if we were at the front door of a neighbor's home. These firefighters are more than employees of the city. They are our next-door neighbors. They welcome all neighbors to their house. The building and equipment are spotless, and their gear is precisely laid out and ready for the next call.
Station 10 was originally located on Oakland Avenue at the intersection of Bryan Street. That station was torn down for the construction of the interstate in the late 1950s. The existing Station 10 is now more than 65 years old.
Company 10 consists of Engine 10 & Truck 10, each staffed optimally with a crew of four firefighters. They can operate, if necessary, with a crew of three. Firefighters work a 24-hour shift and have 48 hours off. Station 10 has three shifts A, B, and C. Each crew has two Company Officers assigned. The Lieutenant is assigned to Engine 10 & the Captain is assigned to Truck 10. The Company Officer is responsible for the plan of attack at each emergency. Station 10 is also the headquarters of Battalion 5, the battalion commander. Battalion 5 is the Chief Officer responsible for supervising Fire Stations 4, 10, 12, 13, and 18.
While in the Atlanta Fire Academy, recruits are tested to the National Professional Qualifications Standard (NPQ) Firefighter 1 & 2 level. They also receive training to become a State of Georgia Licensed Advance Emergency Medical Technician. After recruit training, a "rookie" firefighter is assigned to one of the stations across the city. The Animal House is a prestigious assignment. Each year every Atlanta firefighter is required to complete 212 hours of fire training. After a couple years of experience and additional specialized training the firefighter can be assigned as an extra driver of one of the fire trucks.
Atlanta Fire Rescue has one of the highest starting salaries for firefighters in the metro area. Atlanta Firefighters also currently benefit from a hybrid retirement plan. A combination of Defined Benefit and Defined Contribution with city match. The fire department must be able to recruit, train, and retain a high caliber of personnel to continually deliver prompt quality service to the citizens of Atlanta.
Atlanta's ISO Class (Insurance Services Office) rating helps determine private and commercial insurance premiums for our residents. Atlanta Fire Rescue maintains the highest rating possible, as an ISO Class 1 Department. Atlanta Fire Rescue is one of only a few Fire Departments across the country to maintain both an ISO Class 1 rating and Department Accreditation through the Center for Public Safety Excellence.
Captain Sullivan gave us a tour of Station 10 and all neighbors are invited to visit. The station has a kitchen-break room, bathrooms and showers, sleeping quarters, exercise room and workshop. A must-see is the mural created by one of the firefighters who is a skilled woodworker. At the station the firefighters can distribute smoke alarms and they can also instruct citizens on the proper installation of child safety seats. Twice a year Company 10's firefighters check and maintain about 800 fire hydrants within their territory.
Next month we will discuss all the various types of emergencies that Company 10 responds to.
Note: The GPNA Public Safety Committee seeks to understand and educate itself and our neighbors on the various players in the criminal justice system to identify how we can advocate for the right resources and for system improvements. We advocate for openness in sharing information about agencies' resources, operations, staffing, workload, and effectiveness. Previous articles reported on the courts, probation, and most recently, on Policing Alternatives and Diversion (PAD).
John Prevost is an instructor in the Department of Criminal Justice and Criminology at Georgia State University. Chris Newman is the Chair of the GPNA Public Safety Committee.