By Rebecca Wallace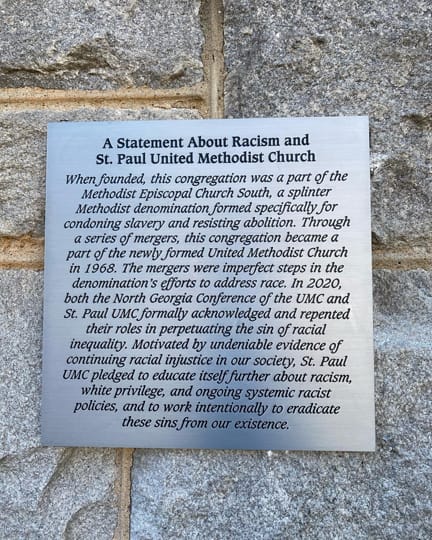 On January 18, this year's day of honor and remembrance for the Rev. Dr. Martin Luther King Jr.'s legacy, St. Paul UMC in Atlanta's Grant Park unveiled a new plaque. Posted just beneath the building's cornerstone, the plaque and its message were inspired by a study done in the summer of 2020, as members tried to educate themselves on the racial injustice in our society in hopes that they would then pray for and work towards bringing about peace and justice.
Inspired by the example that came out of the North Georgia Conference and Bishop Sue Haupert-Johnson, the group accepted that at certain times in its history the church's failures had perpetrated systemic racism in its community and across the country. In response, members decided to make a public statement that acknowledges the church's role in contributing to this racism and announcing their intention to repent and start the process of reconciliation.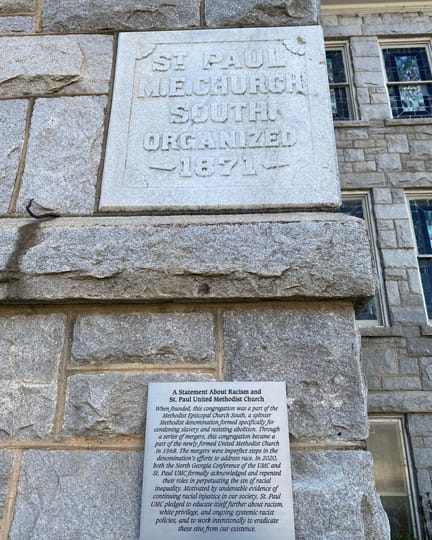 "The plaque explains the church's part in perpetuating racism and our hope and desire to learn and grow and repent so that we can be a part of the solution and walk in the ways that lead to Christ," said Rev. Cassie Rapko, St. Paul UMC's pastor. "Our journey is not over, but we felt that in order to move forward, we had to take a good hard look at our past. This is the beginning of our work, not the end."
The cornerstone was laid in 1906,when St. Paul UMC was a part of a Methodist Church still divided by slavery and segregation. It remains a stark public reminder of this, and the fact that St. Paul was on the "South" side of the Methodist Church.
Bill McKinnon, a member of the working group, says "We intentionally placed the plaque below the cornerstone because we want those who see them together to understand that we recognize we cannot erase our history, but that we are seeking a different path forward."
The plaque reads as follows:
When founded, this congregation was a part of the Methodist Episcopal Church South, a splinter Methodist denomination formed specifically for condoning slavery and resisting abolition. Through a series of mergers, this congregation became a part of the newly formed United Methodist Church in 1968. The mergers were incomplete steps in the denomination's efforts to address racism in the Church. In 2020, both the North Georgia Conference of the UMC and St. Paul UMC formally acknowledged and repented their roles in perpetuating the sin of racial inequality. Motivated by undeniable evidence of continuing racial injustice in our society, St. Paul UMC pledged to educate itself further about racism, white privilege, and ongoing systemic racist policies, and to work intentionally to eradicate these sins from our existence.
Located at 501 Grant Street, St. Paul UMC continues to hold weekly services on Sundays at 11:00am at www.StPaulGrantPark.org, and our Facebook page, @stpaulgrantpark. Please visit our website or call 404-688-7501 for more information.