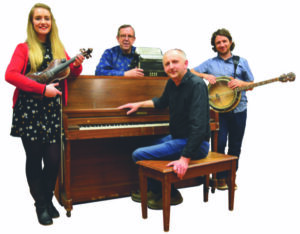 By Rebecca Wallace
On November 9 at 7:30pm, St. Paul United Methodist Church in Grant Park will host the Paul Brock Band, a quartet of Irish musicians, to play a concert in its sanctuary. Button accordion and melodeon player Paul Brock is an "All Ireland Champion" from Athlone now living in Ennis, County Clare. His album Humdinger was voted "Irish Music Album of the Year" by The Irish Times and "Instrumental Album of the Year" by The Irish American News. He was also awarded "Male Musician of the Year" by The Irish American News.
For the Paul Brock Band, Brock is joined by Denis Carey from Newport, County Tipperary – a musician, composer and arranger who will play the piano; Shane Farrell, a multi-instrumentalist born in Manchester, England to Irish parents who plays mandolin, banjo, and fiddle; and Eimear Arkins, an award-winning singer, fiddle player, and dancer from Ruan in County Clare.
One of the band's recent albums is "Green Grass Blue Grass," a collaboration they recorded with 14-time GRAMMY Award winner Ricky Skaggs, celebrating the connection between Appalachian and Irish music.
"We are thrilled to host this wonderful group of internationally reknown players," explained St. Paul Pastor Cassie Rapko. "Music is a big part of our ministry at St. Paul, so this will be a special treat for us, as well as our friends and neighbors."
The church welcomes all its members, friends and neighbors on November 9 to see the Paul Brock Band. The concert will be free with an opportunity to give a "love offering" after the show, which will go directly to the band. For more information, please call the St. Paul office at 404-688-6501.
St. Paul offers two worship services each Sunday at 8:45am and 11:00am. To stay up to date on programs and activities, please visit www.stpaulgrantpark.org or follow Grant Park church on Facebook.