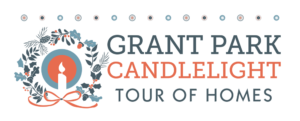 By Jef Blocker
Mark your calendar for the thirty-seventh annual Grant Park Candlelight Tour of Homes on Saturday, December 9 and Sunday, December 10 from 6:00pm until 10:00pm each night.
The tour is a favorite holiday tradition for the local community and beyond, where visitors can go inside some of the most beautiful and interesting homes in Grant Park, as the magic and sparkle of the holiday season comes alive in glowing candlelight.
New features on this year's tour include a trolley shuttle service amongst the tour homes, and special VIP ticket package options, including a Victorian holiday tour of Oakland Cemetery at 4:00pm on Saturday.
The Candlelight Tour begins at St. Paul United Methodist Church (UMC), where visitors pick up their tour booklet which allows access to the homes. St. Paul will again host the popular Artists' Market featuring beautiful holiday gifts by creative artisans, and the Bake Sale with irresistible holiday goodies.
On Saturday, parents and kids are invited to visit Winter Wonderland — a free event especially for the kids, which magically appears for one afternoon only. Created by the Grant Park Parents Network (GPPN), Winter Wonderland provides fun activities that children of all ages can enjoy, such as holiday crafts, games, cookie decorating, and more. Best of all, Santa will be on hand for photos.
For the first time, Candlelight Tour visitors will have the option of riding the new trolley shuttle, which is included in the ticket price, and is being made possible by the generous support of the tour's presenting sponsor, Floor and Decor.
Tour tickets are $20 per person in advance and can be purchased through the website; tickets are $25 on the days of the tour and must be purchased at St. Paul UMC, which is located at 501 Grant St. SE, Atlanta, GA 30312. Proceeds from the tour benefit the Grant Park Cooperative Preschool, the GPPN, and St. Paul UMC, which has been serving the community for over 110 years.
For tickets and more information, please visit www.CandlelightTourofHomes.com. You can also follow the tour and get updates on Facebook at @GrantParkCandlelightTour, on Instagram at grantparkcandlelighttour, and Twitter at @GPTourofHomes.