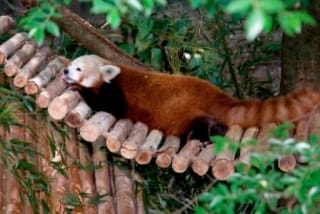 Shandy, a 12-year-old female red panda, passed during the night on May 13, 2013. She had been a member of the Zoo Atlanta family since October 2008.
Shandy had spent the night in the Zoo's veterinary hospital, where she had been receiving supportive care for a sudden illness detected on May 13. Initial diagnostics and blood work have yet to identify a specific problem.
"We had been treating Shandy since the onset of her symptoms yesterday, but unfortunately she passed before we were able to discern the root cause of her illness," said Hayley Murphy, DVM, Director of Veterinary Services. "It's always disheartening to lose any animal, but Shandy was one-of-a-kind and a special favorite among many of our staff, members, and guests."
Shy and independent, Shandy was known for doing things on her own terms. She was a popular sight in the trees in her Asian Forest habitat, where she enjoyed spending time in her own air-conditioned space in summer months. In winter, she could be seen exploring her yard on cold days when few other Zoo residents ventured outside.
Born June 9, 2000, at Knoxville Zoological Gardens, Shandy lived at the Potter Park Zoo prior to her arrival at Zoo Atlanta. Red pandas are solitary, and the Zoo's resident red panda certainly echoed this tendency during her years in Atlanta. She made occasional trips down from the trees to accept grapes from her keepers, but raisins were her favorite rewards during training sessions. Shandy shared her habitat with Marvin, a 14-year-old Reeves' muntjac, but the roommates largely ignored one another.
Native to Asia from the Himalayas to southern China, red pandas are not related to giant pandas, although they do share a few traits in common. Both dine largely on bamboo, and both have pseudothumbs for grasping their food. Red pandas are nocturnal and crepuscular, spending most of their days sleeping in trees. The species is classified as endangered, but its current status in the wild is unknown. The average lifespan for red pandas is 13 to 14 years.
As is the case with all animal deaths regardless of age, a necropsy will be performed at Zoo Atlanta. Details will be shared as more information is available.