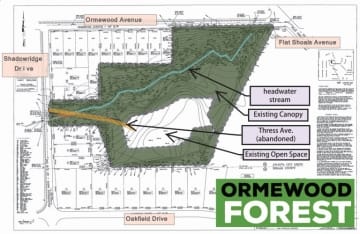 By Carol Seeger
The term "tree hugger" is seeing a resurgence in East Atlanta, which was awarded 2017 Neighborhood of the Year by Trees Atlanta at the organization's Root Ball on May 18. Preservation of Atlanta's tree canopy is important work for greenspace advocates and watershed conservationists. An opportunity exists to preserve 6.1 forested acres at 770 Shadowridge Drive, for which the neighborhood has adopted the name Ormewood Forest. Bounded on the north by Ormewood Avenue, the east by Flat Shoals Avenue, and on the south and west by residents of Oakfield Drive and Shadowridge Drive, respectively, Ormewood Forest is home to 100-year-old trees, birds, other wildlife, and a first-order headwater tributary of Intrenchment Creek.

In the late 1960s, this parcel was home to Beulah Church of Christ Holiness. Four decades later, the church relocated and sold the property. It has changed hands several times since then and even sold on the courthouse steps for tax default. Several developers have approached the affected neighbors in the last 10 years about rezoning and variances, some with plans to build as many as 29 homes on the 6.1-acre tract. However, the residents and friends of East Atlanta have been steadfast in their opposition to development that does not uphold and protect the integrity, character, and balance of the surrounding area. Faithful to the preservation of the headwater stream and its tree canopy, long-time and new homeowners to the neighborhood have aspired to the vision of protecting the land and its natural resources in perpetuity.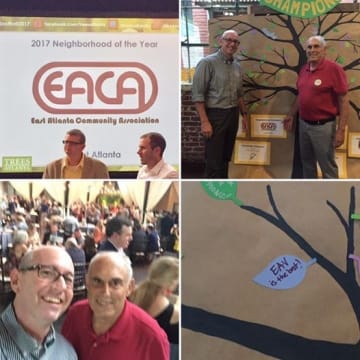 The city of Atlanta recently approved changes to Code of Ordinances, Section 158-66 (Tree Trust Fund), giving East Atlanta new hope that Ormewood Forest can be saved from the developer's backhoe. "Save Ormewood Forest" and its stewards have rallied their allies and resources. City leaders have pledged their support, and discussions are in progress among community partners. The East Atlanta Community Association (EACA) unanimously voted to support the project.
If you are interested in getting involved, please visit www.ormewoodforest.com.