By Robert M. Sarwark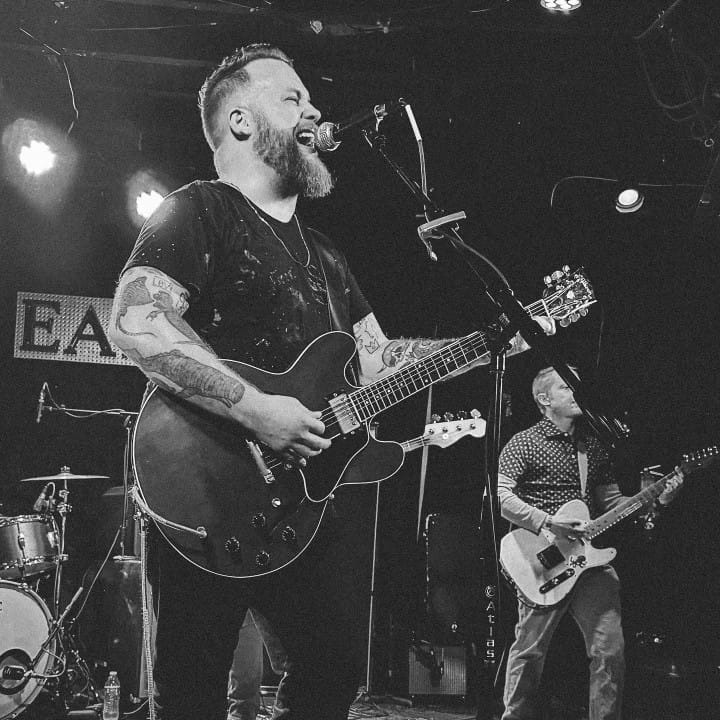 On a late-October afternoon I sit sharing a bowl of early Halloween candy with mixed-media artist and singer-songwriter Jeremy Ray. He and I (and his toddler, Levi, and his two dogs, Caesar and Lucy) are on his front porch in Grant Park. The weather is fine — slightly brisk but sunny. We're ostensibly talking about Jeremy's recently released, 10-track album, Above the Wreckage (self-released on October 21), the first LP with his band the Howdy Men. But we end up getting into much more over the course of about an hour: about his background and upbringing, the meaning and purpose of art, and what it means to be a full-time artist at this moment in history. (And also how much we both love candy.) 
I first met Jeremy a year ago at a Summerhill Sundays pop-up market. Since then we have been connected through social media and serendipitous run-ins around the neighborhood. He and I are basically the same age — he just turned 40 in October and I will in July of next year. We share many cultural touchstones and references, we've found, especially regarding underground music and subculture. We both love Ween and the Clash and Operation Ivy, among other acts with punk-rock pedigrees and cult followings. We also both started playing in bands when we were teenagers during the skateboard-oriented, proto-internet days of the mid-to-late '90s. This affinity, despite the fact that Ray and I grew up in seemingly disparate locales — he in small-town South Carolina (Simpsonville, near Greenville) and I in the suburbs of Chicago — resonates deeply. Culture and the arts connect people in truly remarkable ways.
Ray has lived in Grant Park with his wife Amanda since 2016. He moved to Atlanta at large in 2007 after graduating with a degree in fine art (printmaking) from Winthrop University in Rock Hill, South Carolina. Since then, he's lived in a succession of intown neighborhoods: Little Five Points, East Atlanta Village, Gresham Park, and Cabbagetown. "I love all the places I've lived," he tells me. "Great stories at every place. Nothing bad about any of the places I've lived." As for his current environs, he has found Grant Park both affordable and nurturing of his art. He does much of his design and drawing work at home and keeps another studio in Lakewood Heights for bigger, messier projects like printmaking and painting.
After first focusing more on music, Ray dove into the non-musical arts during college. Yet he always kept up with starting bands and playing live shows — being part of a scene. When he moved to Atlanta, the goal was to nurture both pursuits, but in a bigger market. "I wanted to feel like I was still close to home but in a big city where I was able to gain more opportunities and meet new, radical people," he explains. "People that would help me grow personally and artistically." As he emphatically tells me, he feels he has been succeeding in this over the last fifteen years.
For Above the Wreckage, Ray has created not only music but an array of accompanying works of art. He designed and then hand-carved the linoleum block used to press the graphic for the cover art, in addition to creating standalone prints available for sale. He also printed a chapbook that serves as the extended liner notes to the album, which is itself available digitally (Bandcamp, Spotify, Apple Music, etc.) and on limited-edition vinyl, CD, and even cassette (all mostly sold out at present).
The sound of the new album is an amalgam of alt-country, punk poetry, and folk-rock that errs on the side of high energy. Ray's backing band, the Howdy Men, are of course an integral part of this dynamic. The line-up is a mix of veterans of the Atlanta indie and punk scenes: Gus Fernandez (piano, keys, organ, celesta, vocals; also of Book Club and Ben Trickey), "Fireball" Jay Howell (drums, vocals; also of Reconciler), Charlie Mills (lead guitar), Mason Turner (bass; also of New Junk City) — all of whom are also in Pony League and Mountain Party — and Derron Nuhfer (tenor saxophone, engineering, mastering; also of Reconciler). Add Ray as the frontman and the result is something akin to Joe Strummer backed by the E Street Band, with a side of Wilco. Ray sings with a punk rasp that lends itself well to the Americana genre in a fashion made popular by the Hold Steady, Bright Eyes, the Mountain Goats, and Ryan Adams in the early aughts. Mirroring Ray's origins in the DIY punk world, saxophonist Derron Nuhfer was a member of Gainesville, Florida's Less Than Jake, a band that toured widely and dominated the punk-ska scene in the mid-to-late '90s. "Honestly, I don't ever want to have another band," Ray says. "If the Howdy Men ever stopped being […] this group of six guys, it'd be really hard for me to want to try to put it back together. I feel so at home with these guys."
Standout tracks include the lead-off single and Boss-esque fist-pumper "The Woods"; piano-led road anthem "Hitchhiker"; and "Municipal Stadium," a wistful ballad in homage to minor-league baseball. In the latter, Ray croons, "Cheap and broken empty seats / when MJ came to town he left 0 for 3 / it was a sight to be seen." "The song itself was all about me growing up in Greenville, South Carolina," he explains, "which is where the AA Greenville Braves [the Atlanta Braves' farm team from 1984 to 2004] played. I went there all the time. Many, many games every year." As referenced in the song, Ray vividly remembers the time in 1994 when Michael Jordan played against the Greenville Braves during Jordan's year with the Birmingham Barons (while on hiatus from the NBA). It was the first time that Ray had ever seen the stadium completely full. The penultimate track, the slow-burning and nostalgic "Optimus Blues (Christmas 1970)," is perhaps the album's most soulful and introspective. It ends with a home recording his father had made in 1970, during the first year of his marriage to Ray's mother, who recently passed away. "I have a whole box of recordings that my dad had," Ray explains. He played the same found audio in time with the song at the album release show at the EARL in East Atlanta Village on October 21 (also Ray's birthday): "Everyone cried. And I did too. It was a beautiful thing."
Of the album in general, Jeremy has this to say: "I've always used my creative voice and artistic expression as a way to help navigate the hardest parts of life. It's worked, too; I'm a really positive person because of that practice. That being said…the fastidious nature of this project stems from becoming a father during a global pandemic, losing my day job, diving into my art career full time, facing 40, and losing my mother to cancer. It's been a lot, which is why this project has a lot. This work is my mid-life crisis, which thankfully is better than wrecking a corvette." A lyric from the album's title track reinforces this statement of purpose: "I stood tall above the wreckage / and I built something new."
Find Jeremy Ray's music at https://jeremyrayis.bandcamp.com/and his other artwork at http://Jeremyray.LimitedRun.com.