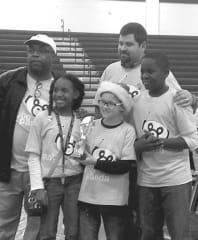 By Joe Weems
Parkside Elementary's Robo Pandas were once again well represented at the Metro Atlanta Regional Robotics Qualifier that was held on Saturday, December 14 at BEST Academy. Parkside participates in the First Lego League Robotics competition each year and was sponsored by 100 Black Men of Atlanta. The First Lego League is a Robotics Program for 9-to-14-year-olds which is designed to get children excited about science and technology and teach them valuable employment and life skills.
This year's theme was "Nature's Fury." The Robo Pandas developed some extremely innovative models, including heat sensor satellites to dispatch firefighters across the globe to put out forest fires and snow-shoveling robotic attachments that could be used to clear streets during blizzards.
Two teams from Parkside, Team Boeing and Team #3, advanced to the state-wide Super Regional tournament. Team #3 was awarded two trophies at the Regional Qualifier: Best Robot Performance with 157 points and Best Teamwork. Last summer three of the 5th-grade students from this team were awarded scholarships to attend NASA Space & Robotics Camp. Their experience at camp must have paid off as they returned to the team this year to help bring home two more trophies for their school.
As follow-up to their terrific performance at the Metro Atlanta Qualifier, the Parkside Robo Pandas placed 9th and 12th out of 31 teams at the state Super Regional tournament that took place on January 11 at Columbus State University in Columbus, Georgia. They were also the highest placing team out of all the APS schools at the event. This is the third year in a row that the Robo Pandas have made it to the state Super Regionals.