By Rebecca Wallace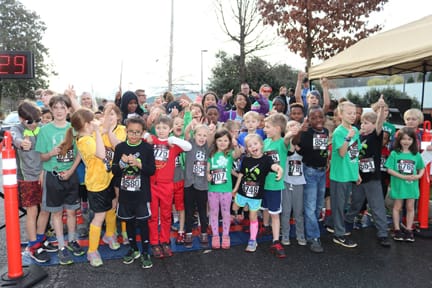 On March 16, the PTA of Parkside Elementary will host the fourth Annual Parkside Stride 5K and 1-mile fun run. Parkside welcomes all runners and walkers in the Southeast Atlanta area to this neighborhood race. The Stride 5K is a Peachtree Road Race qualifier and will be held rain or shine. Both races start at Parkside; the 5K run starts at 8:00am and the 1-mile fun run starts at 9:15am. More than 300 runners attended the inaugural event in 2016, and attendance has been growing ever since.
"It's great when PTA finds a way to support our school, while at the same time opening up our school community to the larger neighborhood community for a family-friendly event," said Principal Timmy Foster. "This is a great event that brings people together and promotes good health."
Thanks to the generous sponsors and partners of the school, Parkside students and staff can run the 5K for only $10 and the 1-mile for $8. Parents and non-Parkside families can run the 5K for $25 and the 1-mile for $15. All fees include a race shirt designed by a Parkside parent and a goody bag filled with sponsor coupons and other items. Race winners will be awarded with medals handmade by Parkside students.
To register for the Parkside Stride, please visit www.runsignup.com/ParksideStride. Runners must register by March 1 to be guaranteed a shirt and the fees increase by $5 after then. Students and staff must register at school to receive the student discount.
Parkside Elementary is an International Baccalaureate (IB) candidate school offering Social Emotional Learning, Gifted and Talented, Special Education and English for Speakers of Other Languages (ESOL), as well as Spanish, art, music, band, and garden learning classes as part of its student-focused core curriculum. A Title 1 school in the Jackson Cluster of Atlanta Public Schools, Parkside serves the Grant Park, Summerhill, Boulevard Heights, Ormewood Park, Woodland Hills, Glenwood Park and Cabbagetown neighborhoods.
For more information on Parkside Elementary, please call 404-802-4100 or visit us at Atlanta.k12.ga.us/Parkside. Tours of the school are given each week for prospective families. You can also visit and "like" the PTA Facebook page, where you can keep up to date on other community events put on by the PTA at www.Facebook.com/ParksideElementaryPTA.