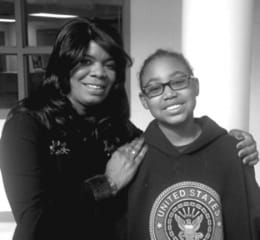 By Rebecca Wallace
In November, the Atlanta Falcons announced the "First Down for Fitness MVPs," one being Parkside 5th grader Joshua Campbell. Eleven students were selected from among 62,000 program participants throughout the state of Georgia.
"We are so happy for and proud of Joshua. He is modeling the importance of taking care of our bodies as we develop our minds," said Principal Caitlin Sims.
According to Kim Leone, Community Relations Representative with the Atlanta Falcons, a First Down for Fitness MVP is a student who upholds a conscious effort and commitment to eating healthy, staying active, and demonstrating sportsmanship at school. Parkside's Armelia Braddy nominated Joshua for the award.
"We are also very proud of our Teacher of the Year, Coach Braddy. Coach Braddy has brought numerous accolades and $20,000 worth of grants to Parkside in the areas of fitness, health, and wellness, including the recent award of a Captain Planet Foundation Learning Garden grant," said Ms. Sims. "She and Joshua make a great team of health and wellness role models at our school."
As an Atlanta Falcons First Down for Fitness MVP, Joshua received four tickets to the December 15 game against the Washington Redskins and the chance to participate in pre-game ceremonies. Congratulations, Joshua Campbell!