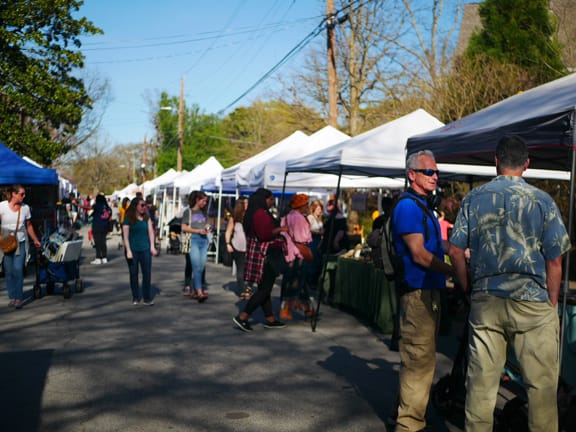 By David Mayr
On Saturday, May 20, the 5th Annual Ormewood Park Makers Festival will return. It will be held in the heart of Ormewood Park radiating outward from the intersection of Woodland Avenue and Delaware Avenue from 11:00am to 6:00pm.
With a successful return to live events, 2022's Makers Festival was a huge success, bringing in thousands to enjoy a wide array of booths, food vendors, live music, and workshops. Nice weather and an expanded roster of offerings made for an enjoyable day for attendees.
This year's lineup will feature more of the same, including arts and crafts, jewelry, furniture, clothing, and food vendors representing local favorites as well as pop-ups from emerging talents. 3 Parks Wine is returning as the official wine provider as well as hosting a workshop on wine and cheese pairings, and organizers are in discussions with a local brewery to return as official beer provider.
The stage will return to Magnolia Grove to host a lineup of local singer-songwriters and bands, as well as anticipated performances from local youth via the Neighborhood Ballet and local martial arts studios.
From its inception in 2017, the Ormewood Park Makers Festival has celebrated the belief that to "make" is to simply create. Through craftsmanship, artistic ingenuity, and sheer passion, makers enrich their surroundings and bring communities together. The festival is presented by SAND, South Atlantans for Neighborhood Development.
To learn more about the festival, visit www.ormewoodpark.org where you can see updated listings of participants, a schedule of events, vendor and volunteer sign-ups. And mark your calendars for May 20!