By Robert M. Sarwark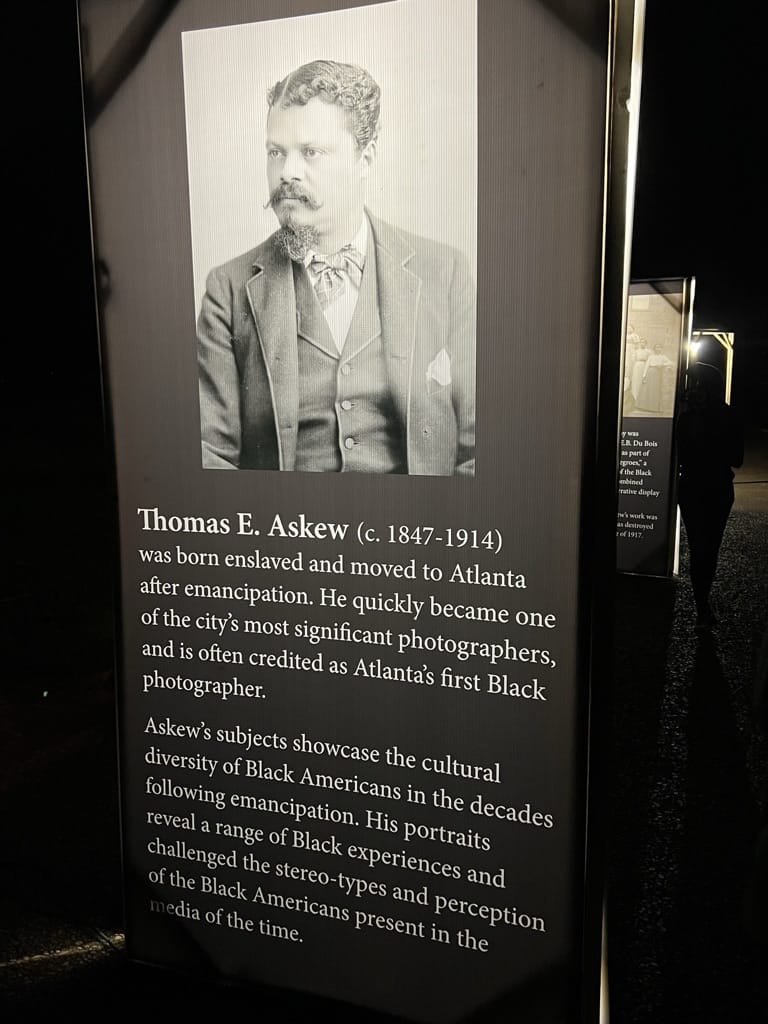 Running from April 21-24 and April 28-May 1, this year's edition of Illumine, Oakland Cemetery's self-guided spring showcase, was a clear success after its two-year pandemic hiatus. The event, which premiered in 2015 under the "Arts at Oakland" moniker, has been reimagined to address both the cemetery's history and its role as a popular Atlanta landmark of the present day.
Mary Fernandez, Historic Oakland Foundation's Director of Special Events, Special Projects, and Volunteers, reported that the night of Saturday, April 30 was completely sold out.
Described generally as an "annual after-dark arts spring event," Illumine 2022 in particular encouraged visitors to "[w]ander through all-new displays set against the inspiring backdrop of Atlanta's skyline." Fernandez hopes that these strolls through Oakland's lanes and gardens "shine a light on hidden history." This history includes that of the cemetery's African-American burial grounds, a particular focus of this year's event. "Black history and Atlanta history are one and the same," she emphasized. A land acknowledgement also appeared near the event's entrance: "Oakland Cemetery occupies the stolen territory of the Mvskoke (Muscogee/Creek) Nation. These people were forcibly removed from the land and as beneficiaries of such atrocities, it is our responsibility to recognize the history of these tribes and to commit to actively condemning the ongoing oppression of Indigenous people in our organizational, interpretative, and programming focuses." Further information about the Muscogee/Creek people and their past, present, and future is available at www.oaklandcemetery.com/land-acknowledgment.
On a preview tour for local media and Illumine volunteers, held on the evening of April 19, Head Gardener Cooper Sanchez offered additional historical context. "A lot of what you see are interpretations of what things might have looked like [in the Victorian Era]," he said. Founded in 1850 and renamed Oakland in 1872 — by which time the property had expanded from six to 48 acres — the cemetery was defined not only by death, but by the bustling life of the city surrounding it as well. "In the late 19th century," reads the "History" page of Oakland's website, "families tended the plots of loved ones, creating an assortment of lovely gardens. Oakland became a popular destination for Sunday carriage rides and picnics." Events at Oakland such as Illumine clearly seek to restore such a balance: reverence towards the departed while also actively welcoming the living.
Other highlights of Illumine's 2022 edition included innovative lighting designs, floral arrangements, and other installations by the following artists: Lindsay McLain, Danielle Smoot, Denise Myers, Elizabeth Ingram, Quianah Upton, Valerie Crisotomo, Sherida Heath, Jasmine Nicole, Jessie Montoro, Ellex Swavoni, Thulani Vereen, Steve Bransford, and Allen Meredith. Musical performances by cellist Okorie "OkCello" Johnson (April 23, 29, and 30) and singer/guitarist Veronika Jackson (April 22) drew throngs of rapt beholders to their soulful and masterful sounds. A singalong led by Johnson to the tune of Ben E. King's "Stand by Me" stood out as a particularly touching moment.
As Atlanta's cultural calendar comes back to life after a strange and often tumultuous two years of pandemic, the notably high attendance at Illumine is a clear indicator of the public's appetite for such unique events. The gorgeous weather of late April and early May in Atlanta — pollen notwithstanding — certainly doesn't hurt either.
For more information regarding Oakland Cemetery and the Historic Oakland Foundation, visit www.oaklandcemetery.com.