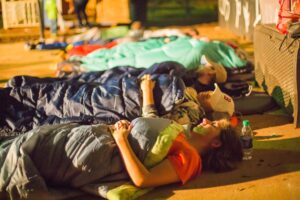 By Norma V. Nyhoff
On Friday, October 5, Nicholas House, a nonprofit that helps homeless families achieve self-sufficiency, will be hosting its second annual Off the Street, On Their Feet: Sleep Out to Support Homeless Families event. Participants sleep rough in the agency's Grant Park shelter yard for one night in solidarity with families experiencing homelessness, raising awareness and funds to support Nicholas House programs.
"The need for Nicholas House's services has never been greater. Every month, we receive more than 300 calls from families needing housing services. We invite our community to join us at Off the Street, On Their Feet as fundraisers, advocates and leaders in the fight to end family homelessness," said Dennis Bowman, Nicholas House Executive Director. "We know that our Atlanta family has the power to transform lives for the homeless families we serve."
Since its founding in 1982, Nicholas House has assisted over 13,000 homeless families on the path to self-sufficiency, providing housing, case management, youth services and more while keeping families of any composition intact. Nicholas House is currently working with the City of Atlanta and other partners to help make family homelessness rare, brief and non-recurring by 2020. Nicholas House invites the Atlanta community to take a stand and make a difference in the lives of homeless families by joining the sleep out effort.
Participants can sign up to fundraise through an online crowdfunding portal at www.offthestreetontheirfeet2018.causevox.com. Participants can sign up with the following fundraising goal levels: $250 Students, $500 individuals, $1,000 couples, and $2,500 groups (up to four individuals participating).
Programming for the evening will also include dinner, a tour of the shelter and moving testimonial from a program participant. Top fundraisers will be recognized with awards. While children are welcome to the opening activities, the overnight portion of the event is for those aged 18 and up. Additional information is available at www.nicholashouse.org.