By Robert M. Sarwark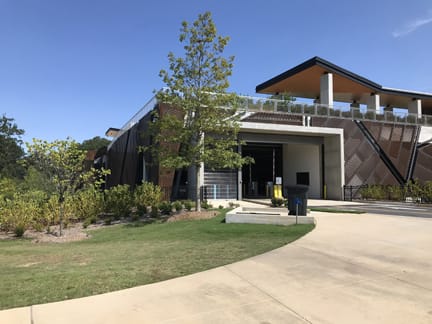 With the completion of several substantial preservation and construction projects in and around Grant Park, 2021 promises to be a banner year for Atlanta's oldest public green space and recreational area.
The Erskine Memorial Fountain, located at Cherokee Avenue and Ormond Street, has been completely refurbished and is back in full working order after more than a century of deterioration. Metal artist Mike Sluder restored the fountain's bronze work.
"As someone who lived in Grant Park for years, my wife and I often walked in the park and wondered why no one was doing anything to that old fountain," Sluder said. "It's nice to see the community making something happen and it was an honor to work on such a historic and iconic piece." Donated to the City in 1896 on behalf of Judge John Erskine, the fountain was first located on Peachtree Street and then moved to Grant Park in 1912. But after several decades of neglect, it lay dormant. Other recent fixes to the monument include a marble bench and foundation as well as improvements to the surrounding landscape and hardscape.
The Lion Bridge near the Grant Park Children's Playground has had its stonework and masonry completely renovated. Brick pavers have also been added, the engravings on which can be customized through a donation to the Grant Park Conservancy (GPC) at https://gpconservancy.square.site/. The GPC, which was responsible for overseeing the project, notes on its website that the Lion Bridge was built around 1890 and "served as a carriage and pedestrian entrance to the park over one of Grant Park's original streams. However, the bridge's western foundation was badly compromised, the walls leaned more each year, and the lion heads had completely deteriorated." Now, visitors to the park can enjoy this historic feature in pristine condition once again.
These projects were funded primarily through two organizations, Park Pride and the Friends of Erskine, to the tune of $230,000 in donations. The Grant Park Neighborhood Association also contributed $7,500.
"Grant Park is home to a number of historically important architectural features which link Atlanta's past and present," said GPC executive director Michelle Blackmon in a statement last December. "We are grateful for the generous support from the community that has helped return these distinctive structures to their former glory."
On a grander scale, the Grant Park Gateway at Zoo Atlanta, which includes 2.5 acres of rooftop greenspace and restaurant space, is now open at Boulevard between United and Ormewood avenues. The structure's design also accommodates a 1,000-space, semi-underground parking deck intended to ease congestion on Zoo Atlanta's facilities while also encouraging visitors to avoid neighborhood street parking. Con-Real, the company responsible for completing the Gateway's construction, described the project on its website: "Amenities include a bandstand, a shaded terrace plaza, amazing views of downtown, terraced seating, and a water feature." The Gateway officially opened on January 2 and is maintained by the City of Atlanta Department of Parks and Recreation. The parking deck is maintained by a separate company. The tenants of the restaurant space have yet to be announced but the entire complex promises to quickly emerge as a popular gathering point in Southeast Atlanta and the city at large.
David Y. Mitchell, who was recently promoted to the role of executive director of the Atlanta Preservation Center, emphasized the timeliness of such projects. "Public space is at a premium right now," he said. "And all of these improvements ultimately add to the culture of Atlanta."