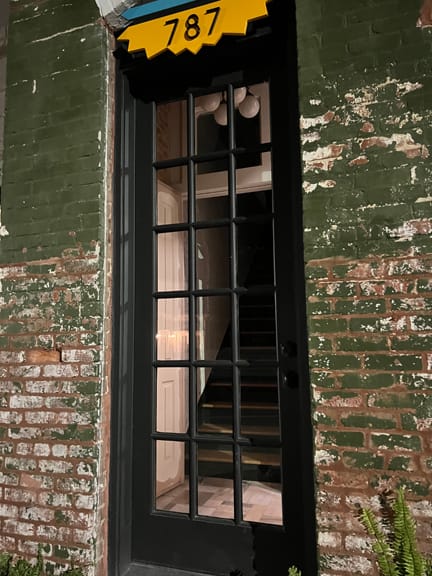 By Robert M. Sarwark
Intown Atlanta is well known for its dynamic arts and culture scene, and, despite the challenging hiatus presented by the pandemic, that trend has rebounded. One of Grant Park's newest spaces, Grant & Little, at 787 Grant Street (at Little Street) aims to provide not only a venue for art and design, but also a focal point for artists, designers, and those who appreciate the arts. It originated from the community of neighbors that comprise Grant Park.
"It started with us meeting," Ashley Chavis, one of Grant & Little's three proprietors, told me during their grand opening on April 16. Early in the pandemic, Chavis, Rebecca Schultz, and Jessica Lange were all mothers of young students at Grant Park Cooperative Preschool (GPCP). They all also have, they soon learned, complementary backgrounds in arts curation, marketing, event planning, or some combination thereof.
Schultz had signed up to be fundraising chair of GPCP, though she admits that she did not have a strong sense of exactly where to start. "I got myself into a lot of trouble…," Schultz joked. Fortunately, she ended up meeting Chavis and Lange when they — and no one else — showed up at a Zoom meeting for the new committee. "We met by doing the fundraiser and then of course became friends [by] doing that," Schultz continued.
The trio officially established their new project in 2022, when they renovated the 110-plus-year-old building at Grant and Little Streets that was once known as Rudy's Grocery. The property consists of a 1,300-square-foot storefront, a 500-square-foot art gallery, and a 2,000-square-footoutdoor courtyard. In addition to being an event and gallery space, Grant & LIttle also functions as a full-service interior design studio.
Starting on Sunday, June 11, Grant & Little will open their doors from 10:00am to 2:00pm on Sundays for small-business pop-ups and coffee. They are calling this series "Sunday Shoppe" and, Jessica Lange explains, "It's really just meant to stay connected to the community. ​​This is a time to explore our space, take in the art, and meet some of our friends who will be popping up from time to time. We will change things up quite a bit around here so there is always a reason to stop in and see what's new."
Find more information about Grant & Little at their website, www.grantandlittle.com, and on Instagram: @grantandlittle.