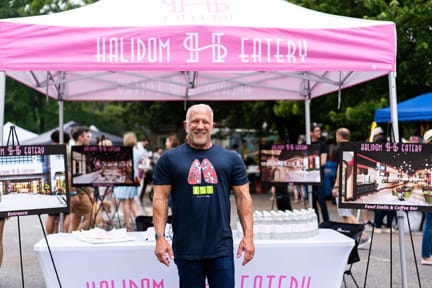 By Valerie Failla
Hal Blackman, owner of Halidom Eatery, welcomed local residents to the 2023 Ormewood Park Makers Festival, an annual celebration of South Atlanta's vibrant communities. Proceeds benefited South Atlantans for Neighborhood Development (SAND) which, since 1973, has played an integral role in revitalizing the communities of South Atlanta, including Ormewood Park, North Ormewood Park, Woodland Hills, Benteen Park, Boulevard Heights, (half of) Glenwood Park, and Custer-McDonough-Guice.
This year's festival included more than 80 local artists and nonprofit organizations, eight educational workshops, seven live bands, two craft breweries, and even a wine connoisseur and a craft cocktail maker. The presenting sponsor was Halidom Eatery, a 13,000 square foot food hall that will feature an array of international, regional, and local cuisine choices to open in winter 2024.
General Manager Paris Jeffcoat and Vice President Bradley Burgess hosted the Halidom Eatery stall and shared details about the upcoming new venue with excited festival attendees. The new food hall will be part of the larger Halidom development, including IST Management Services Global Headquarters, a 2-acre nature sanctuary, and future retail and residential phases, all located at 1341 Moreland Avenue (between Lynwyn Lane and Eastland Road).