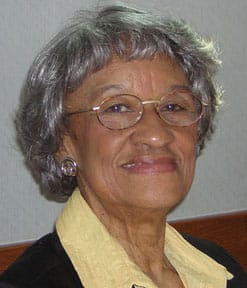 By Dionna Littlejohn
It is my love–and dare I say awe–for my Grandma Alice that drew me to the work of Adopt-A-Grandparent. The organization provides companionship to many of Atlanta's elderly citizens, who need to feel connected, less isolated, or just want to talk to someone. The mission of Adopt-A-Grandparent resonates so well with me because whenever I visit Grandma Alice she shares so many of her wonderful memories with me, including how the Atlanta heat used to "take her breath away."
Sundays at Grandma Alice's house were always full of family and her famous cooking. Her house was where the family gathered for every major holiday. As the matriarch of a VERY large clan, she was the rock for all of the grandchildren, cousins, aunts, uncles, in-laws, and friends who were like family. Even on a modest budget, there always seemed to be more food than anyone could eat, and there was always room at the table for one more person in the small home she shared with my grandfather, my aunts and uncles, and some of her grandchildren.
My Grandma Alice is older now, and she can no longer live without assistance. She can no longer cook and must be monitored closely as she wrestles with the physical and mental effects of being an 80-something-year-old woman, but Grandma Alice is one of the lucky ones. My mother and aunt lovingly care for her, and she remains connected to her community and to her church. She looks frailer and seems smaller than I remember as a child, but her smile still lights up my heart. And even though she is battling dementia, she still remembers me and calls me by my special nickname…and that always makes me so happy. I'm not sure what I'll do on that day she looks at me and doesn't recognize who I am.
My Grandma Alice has always been an inspiration to me, and she has inspired my entrepreneurial spirit in a unique way. For years my husband Harold and I have developed fitness programs, done some personal training around Atlanta, and created fitness-related products. So it seemed logical that, while witnessing the fundraising challenges of Wendy Butts, Executive Director of Adopt-A-Grandparent, we worked to create an Apple app called the ZTrainer iGO. We chose the Adopt-A-Grandparent program because of its nonprofit status, longevity in the Atlanta community, and mission to see lonely seniors thrive. At first glance the app looks like a pedometer; but we added a component that allows users to raise funds for their charity of choice while walking. This month Adopt-A-Grandparent is using our iGO mobile technology to help raise awareness and funding for the organization.
I don't remember my Grandma Alice being much of a technology person or even using many gadgets in her life, so it seems a bit odd that she could have inspired a mobile app. But what I realize now is that the iGO was inspired by Grandma Alice's spirit of giving, which she has also instilled in me. I also understand now that all those Sunday dinners at her house were really about connecting people. That is what we hope to do by partnering in this way with Adopt-A-Grandparent. I couldn't be more proud of being like my Grandma Alice.
If you would like to support Adopt-A-Grandparent while getting fit, please visit www.adoptagrandparent.org or go to the Apple app store and search for ZTrainer iGO for detailed instructions on how to use your iPhone to bring much-needed assistance to a dear senior… much like my Grandma Alice.