By Riki Bolster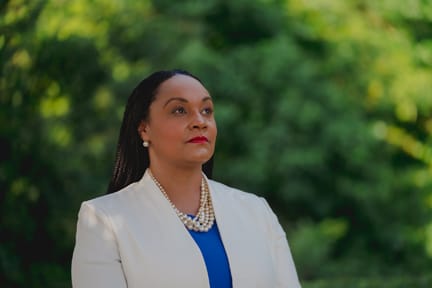 Some Porch Press readers were in short pants or wore ponytails when he was first elected to Congress. For 33 years, the familiar face and passion of John Lewis represented the neighborhoods in the Porch Press area (Fifth Congressional District). However, on January 20, 2021 a new person will take the oath of office, an individual not quite half Lewis' age but reared in Democratic politics just the same.
The name of Nikema Williams, age 42, the former state senator from District 39 (2017-2020), replaces that of Lewis on the November ballot. When she interviewed for the Democratic nomination following the death of John Lewis, a process that required quick action under Georgia law, she told CNN it was "imperative that we choose someone with a long track record of fearlessly standing up for what is right."
Williams cut her teeth as a member of the Young Democrats of Georgia. She quickly moved to advocacy as the former Vice-President of Public Policy for Planned Parenthood and then served as the Deputy Director of Civic Engagement at the National Domestic Workers Alliance, an organization to protect the working rights of nannies, house cleaners, and home care workers.
After years of working in many capacities in the Democratic Party of Georgia, Williams was selected as the first black woman to head the state party. A prominent ally who stumped the state for Stacey Abrams, Williams promised to expand Abrams' strategy to put an intense focus on those voters who feel neglected and also conducted strong voter registration efforts.
In addition to her advocacy for reproductive health and justice rights, Williams' arrest during a "count every vote" protest at the Georgia State Capitol in November 2018 over the results of the close gubernatorial election is a visible example of her activism. Protesters supporting an extension of time for counting all ballots demonstrated inside the State Capitol. "I was not yelling. I was not chanting. I stood peacefully next to my constituents because they wanted their voices to be heard, and now I'm being arrested," Williams told WSB News as she was taken away with her hands zip-tied behind her back. Fifteen protesters were arrested, taken to Fulton County jail, and bonded out. The charges were later dismissed.
Jimmy Hardy, Ormewood Park resident, feels good about his new Congresswoman. "I like her background. Her dad was a community leader, and her great aunt integrated the University of Alabama. She has a heritage of working for social change and it was reflected in what she did in 2018 [arrest at the Capitol]. What they [the Georgia Secretary of State] did with purging voter rolls was absolutely sinful. I am very encouraged by her representation," he said.
State Senator Jen Jordan told the Atlanta Journal Constitution that for Williams "It's not just about espousing values. You've got to live it."
While in the Georgia Senate, Williams also worked across the aisle, helping Lieutenant Governor Geoff Duncan to shape his hate-crimes bill. "At a time when our nation feels so divided, Georgia is bringing forth a moment of unity," Duncan said in an interview with Fox 5 News.
Born in Columbus, Georgia, Williams was raised by her grandparents in Smiths Station, a small town in east Alabama. She graduated with a B.A. in biology from Talladega College and soon began racking up notices. Georgia Trend magazine named Williams to their Power 30 Under 30 list, then some years later included her among their Forty Under Forty. Williams is married to Leslie Small, a former aide to Congressman John Lewis and a leader in the Young Democrats of Georgia. They have a five-year-old son, Carter, named for the former President.