By Melanie Regnier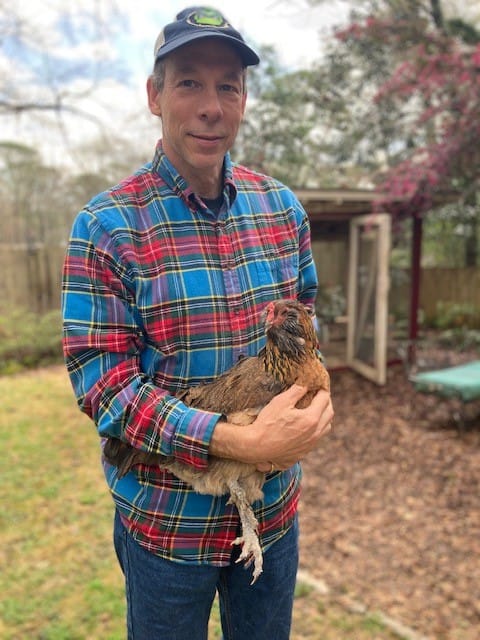 In Paul Schwartz's new children's book, Why DIDN'T the Chicken Cross the Road?, it does look pretty great on the other side. The popsicle stand is open. A game of duck-duck-goose is under way. Bunnies and other fun-loving creatures ride bikes and play in the lush grass. A yellow hen with a red balloon waits patiently. So what's the hold up?
Schwartz, an Ormewood Park resident, musician, and environmental lawyer, started painting when his band needed some artwork for their CD cover. Schwartz thought he would give it a try. Encouraged by the feedback from friends and family, he created paintings of "humanized bunny rabbits" in family scenes, some of which were auctioned off at a local school fundraiser. People started suggesting that he write and illustrate a children's book.
Why DIDN'T the Chicken Cross the Road? grew from the Schwartz family's experience caring for their backyard flock. After years of begging and persuasive essay-writing, Schwartz's daughter Violet finally got her wish when she woke up on Christmas morning, 2012, and found baby chicks in the bathtub. Inspired by their unique personalities, Schwartz started painting the chickens, and a story developed. Painting with acrylics on thin plywood sheets, he completed 19 paintings over the next five years.
"One of the greatest parenting experiences is sitting with your child in your lap, reading a book," says Schwartz. He found himself thinking of all the books he read with his children, adding visual references to some of his favorites as he painted, elements that he hoped would engage the reader and provide continuity from page to page.
Schwartz hesitates to call himself an artist, but says "folk artist" feels about right. His paintings, vibrant and whimsical, feature characters that you want to get to know. Schwartz describes himself as "the worrier chicken" in the family, dubbed "Mr. Safety" by his children, and personified by the father chicken character in the story.
The pandemic has delayed the publicity that Schwartz was hoping for, but he plans to have a launch party, with music, as soon as it is feasible. Meanwhile, you can visit the book's Facebook page, which features original songs, including "Chickens are People,Too". Why DIDN'T the Chicken Cross the Road? is available online via bookshop.org and other digital sellers.