By Angie Wynne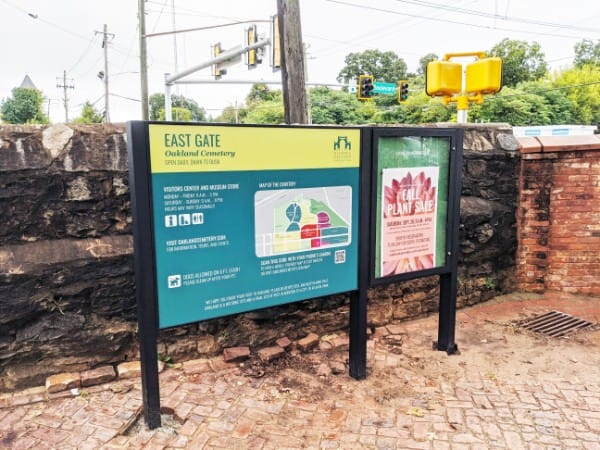 Visitors entering Oakland Cemetery through the new East Gate will notice a few positive changes to the area. Historic Oakland Foundation's (HOF) preservation team has been hard at work all summer restoring nearly 200 lots in the 7.5-acre East Hill section of the cemetery. This is part of a four-year phased restoration project that kicked off earlier this year.
Additionally, the gardens team has recently landscaped and sodded several restored lots near the new gate, including that of city councilmember and Grant Park resident Charles Chosewood (1873-1954) and his family, the first lot visitors see when they come through the gate. More landscaping will follow as the preservation team completes restoration work on additional lots in the section.
HOF has also installed new amenities nearby, including a bench, trash can, dog waste bag station, as well as new signage. The new sign features a map of the cemetery, hours of operation, a bulletin board that will be used to announce upcoming events and share important information with the public, and more. The foundation plans other future upgrades, including additional wayfinding signage to help orient visitors within the cemetery and a bike rack near the East Gate.
If you haven't yet had a chance to visit Oakland and check out the new gate, Historic Oakland Foundation invites you to do so. Fall is the perfect time to explore.