By Lyn Hillman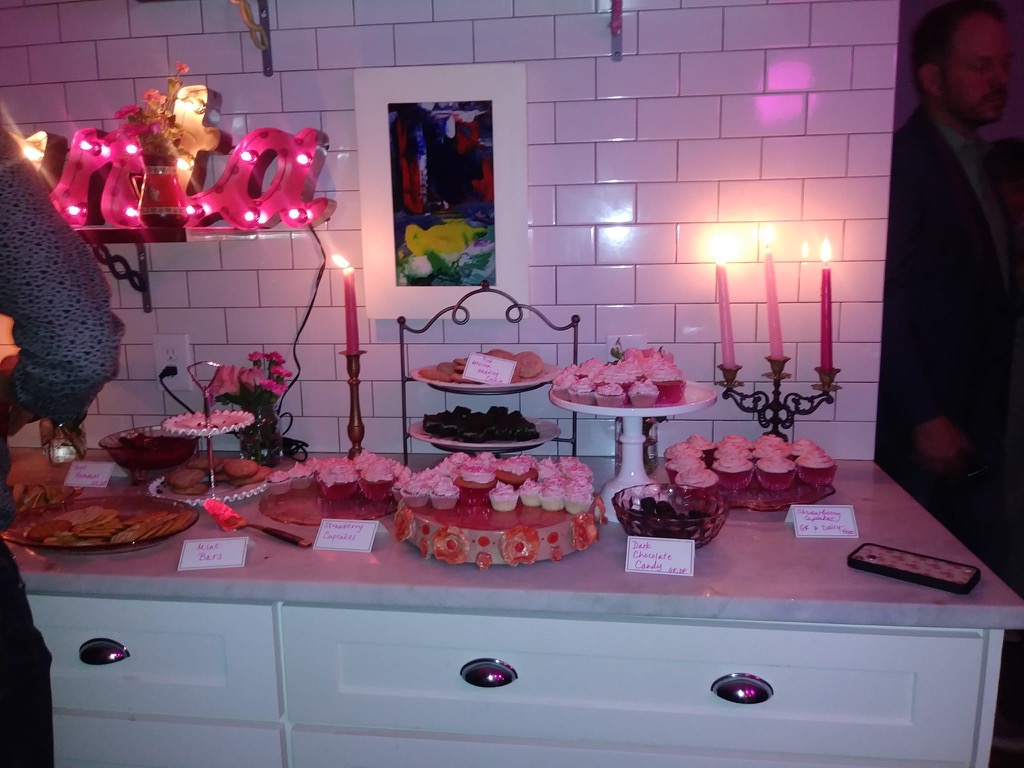 A group of local women got together following the passage of Georgia's six-week abortion ban to brainstorm and find ideas for protecting abortion rights for local women. Grant Park resident Jennifer Berkowitz started the group after attending an online training session to learn about ways to support local organizations advocating for reporoductive rights. The group, Atlantans for Abortion, came up with the idea of holding a fundraising party to support local organizations working to protect reproductive rights. The first such event was held on Saturday, October 1 at the home of Joanna and Scott Mevers in Grant Park.
55 guests attended the party, which featured a DJ, cocktails, food, a silent auction, a photo booth station, and remarks from Democratic Georgia House Representative and Georgia Secretary of State candidate Bee Nguyen and Mo Ivory, the Director of Cultural Engagement for Gubernatorial candidate Stacey Abrams. The Mevers' home was lit in pink and guests were encouraged to wear green, which has become the color frequently worn by abortion rights activists in countries around the world including Argentina, Colombia, and Poland.
The event raised more than $6,000 in ticket sales. According to host Joanna Mevers, the event organizers expect to meet their overall goal of raising $10,000 in total, including additional donations. All food and beverages were donated and prepared by organizers and volunteers. 100 percent of the funds raised will go directly to the Atlanta-based ARC clinic, which provides transportation, lodging, and childcare to women traveling to Atlanta for reproductive healthcare services.
In her remarks to the audience, Nguyen, who currently represents the 89th District in the Georgia House of Representatives, recounted her experience as a member of congress during the debates over Georgia House Bill 481, which severely restricts access to abortion after approximately six weeks of pregnancy. Nguyen mentioned that many colleagues privately told her they supported abortion rights, which would be protected by the U.S. Supreme Court's Roe v. Wade ruling even if the state-wide ban was passed. She noted that protecting abortion access is even more important since the overturning of the Supreme Court decision. Nguyen also asked attendees to encourage their friends to vote, especially in light of recent laws passed in Georgia that can make it more difficult for citizens to register to vote. She also explained that it is very easy for anyone to challenge the legitimacy of an individual's voter registration. In speaking to the attendees, Ivory also encouraged everyone to vote, and she reiterated Abrams' commitment to defend reproductive rights in Georgia, including repealing HB 481.
The event organizers plan to continue their fundraising efforts to support clinics offering reproductive healthcare services including abortion. Future events will include painting parties that can be held in hosts' homes. Please visit https://atlantansforabortion.com for more information and to keep up with future events. The public is encouraged to follow the group on Instagram at @Atlantansforabortion. Those wishing to donate to ARC can do so at https://arc-southeast.org/donate.