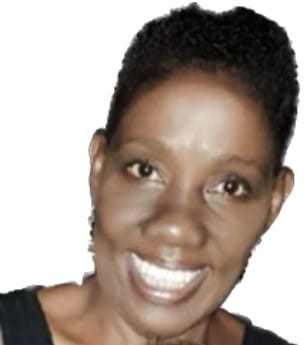 By Karen Wilson
Longtime Grant Park resident Miriam "Susie" Matthews Sanson passed away peacefully in her Park Avenue Home on Sunday August 27. Susie and her husband of 39 years, Aston Sanson, moved into the neighborhood in 1989. They both fell in love with the Grant Park community and quickly became a part of the fabric of the neighborhood. They relocated from Killian Street to Park Avenue in 1994 and were immediately invited to show their home in the Grant Park Tour of Homes. Since then, they have maintained their support of the Tour of Homes and routinely "house sat" during the annual event. Susie served as treasurer of the Grant Park Neighborhood Association. She and Aston have been active members of the Grant Park Neighborhood Planning Unit (NPU-W).
Susie and Aston traveled around the world. They have visited every continent except Antarctica and perhaps the North Pole. In their beloved Grant Park Atlanta neighborhood, they created a warm, welcoming and comfortable home. The Sanson home became a center of social activity for family, friends and even acquaintances. They always had room for one more. Their Friday night card parties were legendary!
Susie began her travels in this life, in Knoxville, Tennessee, as the youngest of eight children born to Rubye Matthews (deceased), on November 11, 1955. According to her mother, she was called Susie by her brother Jerry, even while he was continually reminded that her name was Miriam. As with all her children, Rubye Matthews instilled in Susie the values of integrity, hard work, loyalty, and a love of learning.
At Austin-East High School in Knoxville, Tennessee, Susie was a member of The National Honor Society and a cheerleader among other clubs and societies. She arrived at Clark College (now Clark Atlanta University) as a history major and continued as a cheerleader there. She then earned a degree in accounting and had a successful professional life as a Certified Public Accountant.
Miriam Kaye "Susie" Matthews Sanson embarked on her final journey on Sunday August 27. Missing her every moment is her husband Aston and siblings Linda Brabson and Robert "Sonny" Matthews of Knoxville, Charles "Chipper" Matthews and Sheila Phillips of Chattanooga. Susie was pre-deceased by her mother and siblings Elizabeth, Harriet, and Gerald "Jerry" Matthews. Also grieving are a multitude of nieces, nephews, other family members, in-laws, and friends.