By Greg Giuffrida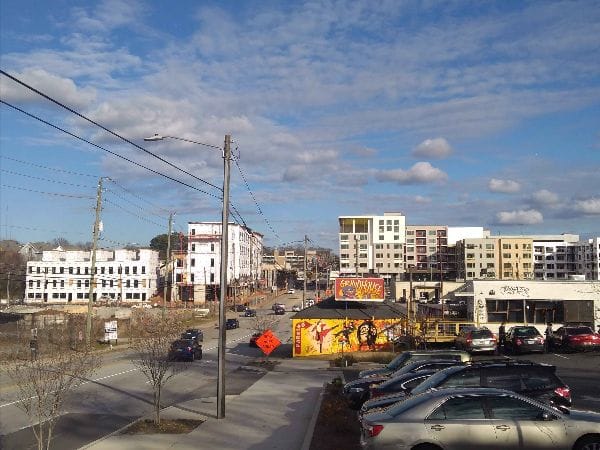 In 2015 stakeholders created and funded a full-time planning position for the Memorial Drive Corridor from downtown Atlanta to East Lake. This effort grew out of the Georgia Tech Imagine Memorial study commissioned by Councilmember Natalyn Mosby Archibong in 2014 and builds on years of planning work by Councilmember Carla Smith and neighborhood leaders.
Central Atlanta Progress (CAP) agreed to host the Corridor Executive position because it has a shared interest in quality redevelopment of Memorial Drive and experience with incubating similar organizations. Although CAP has been an enthusiastic partner, this effort has been entirely funded by donations from property owners, developers, neighborhood organizations, and other nonprofits on the corridor.
Four years later, we are proud to report that this role has been essential to guiding more than $1.5 billion in private development and tens of millions of dollars in public infrastructure to make the corridor safer and more walkable for the future (see below for more details). The most significant project to date is the ongoing resurfacing and restriping of four miles of Memorial Drive from Reynoldstown to East Lake.
The long-term goal was always to spin this role into a new Community Improvement District. Unfortunately, we don't have the support of key commercial property owners to do so at this time. The current fundraising model is not sustainable. Some donors have been incredibly generous and patient, while other stakeholders who benefit from the work haven't contributed.
An enormous amount of work remains for the corridor to reach its full potential. The need will only grow for a permanent organization to advocate for limited public resources to be spent here instead of other parts of the city and state. It's possible that a new coalition will form to continue this work in the future.
Greg Giuffrida has made the difficult decision to step down and pursue other opportunities in Atlanta. He will continue to collaborate on a limited volunteer basis with neighborhood and nonprofit organizations on projects that improve safety and walkability on Memorial Drive.
We are deeply grateful for the support and encouragement of our elected officials, public servants, donors, neighborhood leaders, and literally thousands of residents and business owners we have interacted with throughout this process. Thank you for everything you continue to do for Southeast Atlanta.
We're proud to list the following achievements won through cooperation and dedication with countless public servants, both paid and volunteer: The Georgia Department of Transportation's resurfacing and restriping of four miles of Memorial Drive, including conversion of the reversible lanes (construction in progress); this is a transformational safety project that serves as the foundation of making a street that is safer for all users. Ongoing design and funding for a second phase of safety improvements that will include medians, bulb-outs, pedestrian crossings, signal upgrades, and bus pullouts (estimated 2021). Procurement of a major streetscape and sidewalk project between Connally and Grant Street (procurement in progress). New funding for sidewalk gaps near schools and MARTA stops, bringing us close to our 5-year goal of making both sides of Memorial Drive fully ADA-compliant (in planning and design). Completion of the Imagine Memorial Livable Centers Initiative (LCI) plan (in review, adoption pending). GDOT commitment to install two new Pedestrian Hybrid Beacons (one complete, one pending construction). The revival of Memorial Drive Greenway, the transformational linear park between Oakland Cemetery and the Georgia Capitol (acquisition ongoing, activation in progress). Design and coordination with Oakland Cemetery on the future East Gate for pedestrians (under design review, fundraising). Coordination and facilitation on zoning and transportation for dozens of private development projects totaling more than $1.5 billion in total economic impact.
The website memorialdriveatl.com will remain available as a reference through the end of 2019, but it will not be updated. Social media accounts on Facebook, Instagram, and Twitter will be closed by the end of May 2019. For inquiries related specifically to the Memorial Drive Corridor initiative and correspondence with Greg Giuffrida, please email memorialdriveatl@gmail.com.