By Carlen Ruth Hultgren
After receiving zoning approval from the community and City of Atlanta in May 2019, the 525 Moreland Development Team closed on the Masonic Lodge property at 525 Moreland Avenue in July 2020. After consolidating the eight lots and ironing out the design details, the project is now working on the necessary variances to make the approved plan a reality.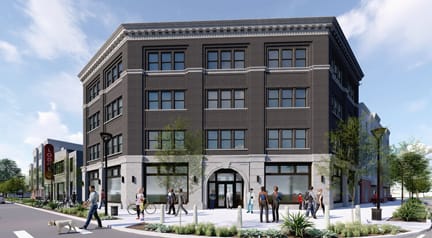 Development partner Rea Ventures has secured funding from the Georgia Department of Community Affairs to develop 42 units of affordable housing for individuals earning between 30%-80% of the area's median income, with a project average of 60%. The residential portion of the project will be known as The Abbington at Ormewood Park. The commercial portion will be known as The Lodge, in honor of the historic Masonic Lodge building as the centerpiece of the development.
Preliminary cleanup and test area repairs of the historic Masonic Lodge building have been completed. While the building has been long neglected, it features great bones of masonry, steel, and concrete. The architectural details are irreplaceable, relics of a bygone era, with a limestone masonry facade, marble staircase, and grand ballroom with twenty-foot ceilings.
Once the remaining zoning approvals are in hand, the group will apply for a land disturbance permit, setting a goal to break ground by summer 2021 with the affordable housing financing requirements setting a construction start for May. A public open house was held in the historic Masonic Lodge building on Saturday, February 6 and was well-attended by neighbors, businesses, and the curious.
Leasing is currently underway for the Lodge and the office building. For more information on the commercial space available for lease, please contact Perry King with King Properties on the website's leasing tab at www.525moreland.com, where you can sign up for continuing updates on the project as well.