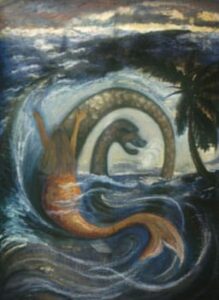 By Henry Bryant
After acclaim across the country, and in art hotspots around the globe, Batya Tamar is bringing her work to East Atlanta Library in a one-woman show in mid-March. The opening reception sponsored by the Friends of East Atlanta Library and Atlanta Fulton Libraries, will be on Saturday, March 18 from 3:30 until 5:30pm. All are invited to attend, meet the artist, see a selection of her work, and enjoy refreshments with neighbors.
Batya has been creating mixed-media drawings and paintings about the intersections and cross-connections of culture in the Americas for more than 25 years. In addition to several galleries in Atlanta, she has exhibited her work nationally and internationally in many solo, invitational, and juried group exhibitions, including the 10th Havana Biennial (2010), Wilmer Jennings Gallery at Kenkeleba in New York City, and the National Museum of Art in Accra, Ghana.
Batya has been a resident of East Atlanta for almost 15 years and maintained her studio at The Arts Exchange in Grant Park for 10 years. She is an experienced art educator who has taught all levels of art from early childhood through college. Most recently she taught the art classes for the East Atlanta Kids Club summer program here in the Village. She also has served on numerous nonprofit boards for arts organizations.
In the short weeks before Batya's show opens, you may have time to visit the library to see Gone, Still Here, Not Forgotten-Images from East Atlanta History. This small show is mounted as historic preservation students are beginning work in the neighborhood to research the information necessary to nominate the area as a National Historic District.
The art shows are on display on the gallery wall in the library meeting room, which is open during regular library hours. The library is located at 400 Flat Shoals Avenue. To gain access, ask at the library circulation desk.