By Robert M. Sarwark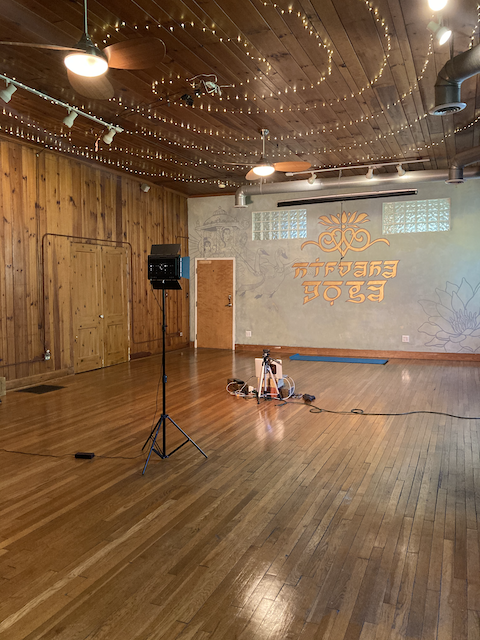 Needless to say, the last fifteen months or so have seen massive upheavals in how we all work, interact, raise families, and pretty much conduct every other function of our lives. For the purveyors of goods and services in Grant Park, this time of pandemic has been no less challenging. And while some businesses have managed to stay afloat in a sea of uncertainty using new precautions and approaches, a few have opted to close shop. Others still, temporarily or tentatively on hiatus for months, are just now preparing to reopen at full capacity for the first time in over a year.
Nirvana Yoga (464 Cherokee Avenue, Suite 201) is one such establishment in the processes of welcoming back their clients. Located in Grant Park's small but normally busy Cherokee Avenue commercial strip, at the northwest tip of the Park, Nirvana has "barely made it through the pandemic," says proprietor Leigh Anne Neal. In addition to the "extreme generosity" of her landlord, Bill Adams, she also credits her business' survival to its loyal community of students and a PPP loan. March 15, 2020 was their last day of business as usual.
Neal plans to continue virtual offerings going forward but is reopening in-person sessions to her existing client base starting May 17. A yoga retreat is also scheduled for the Heartwood Retreat in Blue Ridge, in the North Georgia mountains, from August 12-15. She also hopes to be able to add new clients by fall. "We're happy to be seeing everybody soon," Neal says. See www.nirvanayogaatlanta.com for more details.
As for those who haven't fared as well, Third Street Goods and its speakeasy-style bar, Cardinal, formerly of the Beacon complex between Hill and Grant Streets, closed on August 15, 2020. In an interview with owner and bartender Kathryn DiMenichi, published in Eater Atlanta just before closing, she explained the myriad constraints. "People claim they want a neighborhood market," she said, "but that support vanished once the state reopened [starting in late April 2020]. They started going back to Kroger. As for Cardinal, it isn't well ventilated. It wasn't designed to survive or thrive in a pandemic. Cardinal is an intimate bar." DiMenichi also intimated in the interview that she planned on reopening elsewhere, though details are still unclear.
The spaces formerly occupied by Third Street Goods and Cardinal are now leased by Zoo Bar Atlanta, a bistro-bar with a "sexy, jungle theme," which opened in February of this year. As for the Grant Park businesses that have found workarounds, these include many of the neighborhood's other bars and restaurants. Mainstays such as Dakota Blue and Grant Central Pizza & Pasta (both on the Cherokee Avenue strip) quickly pivoted to carry-out service, with some outdoor seating. More recently, Dakota Blue has returned to limited indoor seating as well
Also at the Beacon, Rafa Pereira's Brazilian juke joint Buteco returned last summer after a months-long pause. Since then, the stand-alone space has maintained its essential focus on live music (mostly Brazilian or pan-Latin, but also a mix of many others), with shows in the parking lot and expanded patio seating. Serving creative Mexican dishes and cocktails across the Beacon parking lot, Patria Cocina has been open at their normal outdoor-patio capacity for several months now, with limited indoor seating; the same goes for ramen house Hotto Hotto around the corner. Inside the Beacon's main hall, behind Zoo Bar, Marguerite's Jerk Bistro has continued to serve up their authentic Jamaican cuisine as carry-out only, though a small seating space remains right outside their door. Nearby, Baker Dude and Haute Cookie have remained open for carryout and delivery as well. See www.thebeaconatlanta.com for more information on all of the establishments at the Beacon.
Some businesses have even opened during these difficult times. MEDICI, an urgent-care clinic and holistic wellness center, also in the Beacon complex, opened in March. Fittingly, they have offered free doses of the Moderna Covid-19 vaccine. For more information on services see www.mdmedici.com.
Of her own business' survival, Leigh Anne Neal of Nirvana Yoga remarked, "We're really grateful for our community." It's safe to say that this reflects the sentiments of all of the businesses mentioned above as well.