By Jean Hallman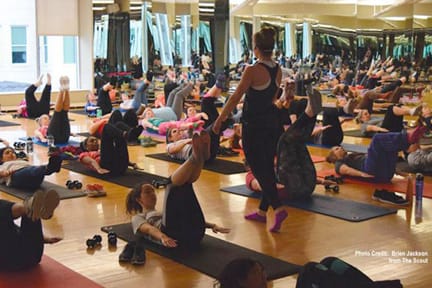 Another year come and gone, 2019 is new, fresh, and full of promises. Many pledge to get fit and take better care of their bodies each New Year. If you aren't into gyms or it is too cold to exercise outside, consider grabbing a few friends and dancing.
Dancing is a wonderful way to work up a sweat while having a good time. If you are like most, there will be a lot of laughing involved. Research published last year in the International Journal of Obesity discovered that laughter really is the best medicine for a weight problem. Through a small study, scientists calculated that just 15 minutes of laughter a day will burn 10 to 40 calories. That is enough to shift between 1 and 4 pounds a year.
Are you ready to give it a try? Dance 411 Studios is a local option that has many offerings to get you off to a great start. You can try single classes or commit to a membership when you are ready. A few classes to choose from include: Zumba, Hip-Hop Fitness, Barre Fitness, and Fitness Challenges.
The Little Black Dress 8-Week Fitness Challenge is especially focused on helping you get in shape. The eight-week program encourages women to make friends, support each other, and have a fantastic time while exercising.
All individual adult drop-in classes range from $20-$30 depending on the class and duration. Check out the online Adult Schedule for all details, individual class pricing, and links to register. Adult Dance Fitness Memberships start at $109 per month.
This year, give dancing a try. Your body will thank you for it.
For more information and ideas to get moving in 2019, visitwww.Dance411Studios.com. You can also call Dance 411 Studios at 404-622-4110.