By Carlen Ruth Hultgren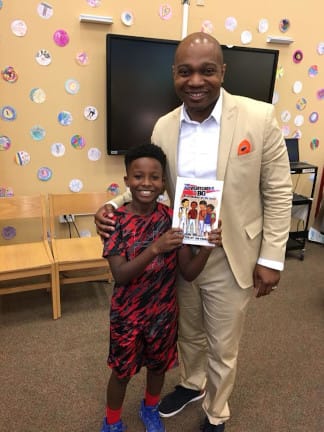 Joe Freeman, a resident in the SAND community, will release his latest book in The Adventures of BG series, Lucky Enough to see the World Differently, on September 5, and it can be found at theadventuresofbg.com. This book follows a young man by the name of Truesdale, who in the eyes of others was different and an outcast. Truesdale's exceptional intellect and ability to pay attention to detail, allows him to teach BG and his friends to never judge a book by its cover and to treat everyone equally.
Joe Freeman is a writer, father, business owner, 2017-18 Teacher of the Year for Atlanta Public Schools, and one of the most engaging and authentic people you will ever meet. After a decade of being a teacher, Joe co-founded FNF Dynamics LLC and The Adventures of BG scholarship. These programs are designed to challenge, inspire, and motivate children of various ages, while strongly advocating the need to understand and advance the maturity of students through the development of age-appropriate curricula.
This passion to motivate and empower youth stems from Joe's own experience as a young father, husband, and teacher, and the impact he had on students of all ages. As a teacher at a high performing school, he often looked around at the trappings that came with the big name and wondered why he always felt like he could be doing more. After much reflection, he set off on a new path as an advocate for all youth. Joe is fully engaged in the quest to get his message out about the power of positive self-esteem and youth empowerment at work and social settings.
Joe lives with his wife and three kids on the east side of town. The SAND neighborhood is a treasure for him and his family because of its many tranquil spaces that enable him to be calm and relaxed enough to write, yet lives only minutes from the city.