By Jacob Tugendrajch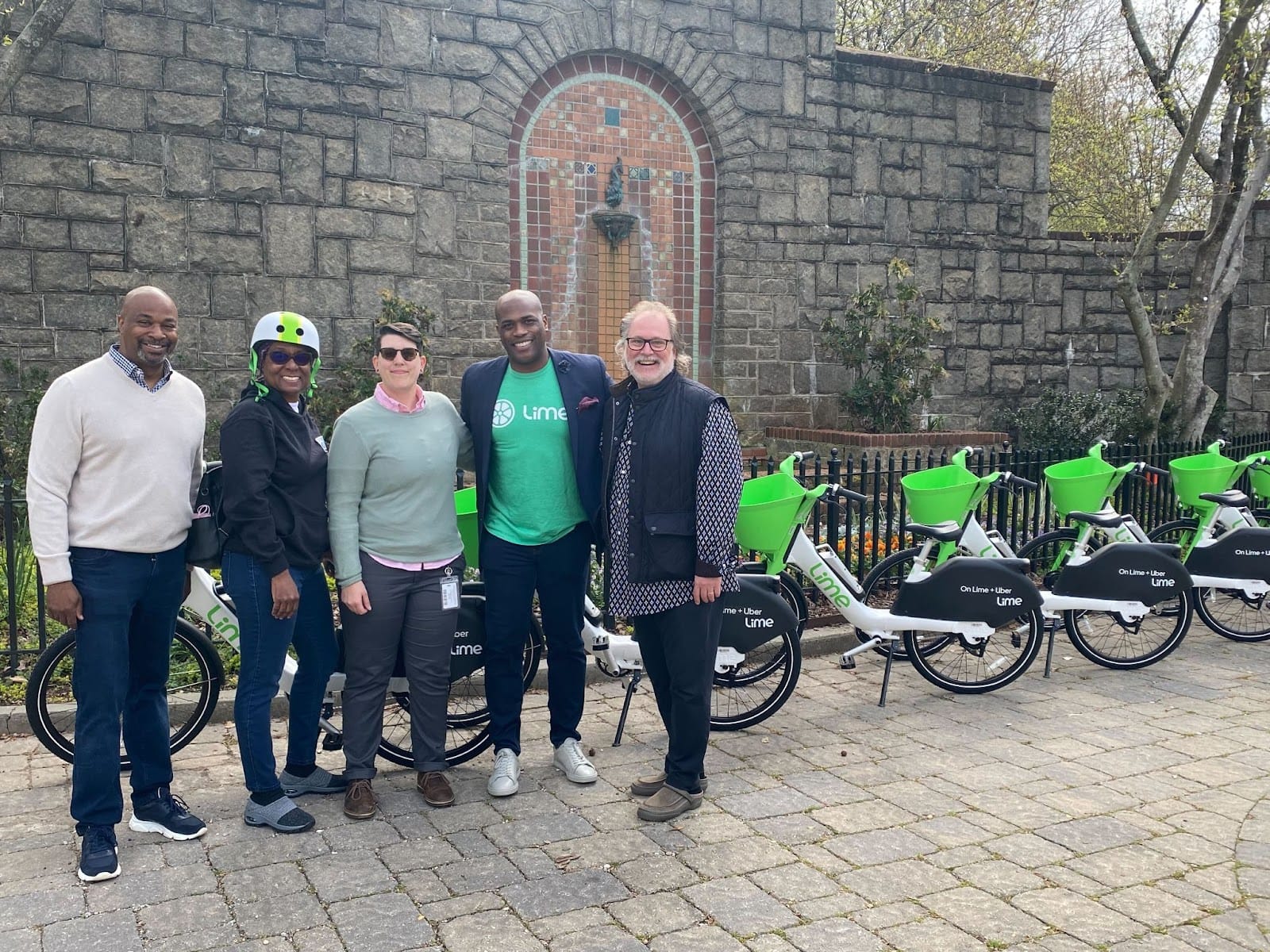 Lime celebrated its new Gen4 e-bikes launching in Atlanta with a demonstration in Grant Park, raising awareness of micromobility options as gas prices rise. Lime launched the first of its new fleet last week and is scaling up to 400 of the new e-bikes, which provide a smoother and safer ride, marking an investment of $850,000 in Lime's micromobility program in Atlanta.
"Lime is deeply committed to Atlanta and we see this investment as doubling down on our plans to be here long term. Our goal is to help this city build a future of transportation that is shared, affordable, and carbon-free, and these brand-new e-bikes are a giant step forward towards that goal. We look forward to seeing residents and visitors out there enjoying our Gen4 e-bikes this spring and summer, especially as high gas prices make sustainable ways to get around even more important," said Phil Jones, Senior Director of Government Relations at Lime.
"The goal of allowing shared e-bikes and e-scooters on our streets is to make our transportation network more sustainable, affordable, and accessible to all and I'm glad Lime is committed to constantly moving forward with that in mind. These new e-bikes with swappable batteries will make Lime even more environmentally friendly and help us achieve our ambitious climate goals. We look forward to working with Lime to ensure all Atlantans are aware of and have access to this exciting new way to get around," said District 3 Council Member Byron Amos.
"In order to meet the needs of Atlantans, micro-mobility operators would be wise to offer e-bikes. We are grateful to Lime for ensuring our city gets the top-of-the-line e-bikes and e-scooters we deserve," said District 2 Council Member Amir Farokhi.
The new bike comes equipped with lock-to technology and a swappable, interchangeable battery that is compatible with Lime's Gen4 e-scooters, which will significantly enhance the efficiency and sustainability of its operations, and improve vehicle availability for riders. The launch makes Atlanta just the second city in the whole country to have a whole fleet of Gen4 e-bikes available following small-scale pilots in several cities in 2021.
The interchangeable swappable battery, shared between Lime's Gen4 e-bike and e-scooter, is the most revolutionary upgrade to the new generation of Lime vehicles and aims to significantly improve the operational efficiency and sustainability of Lime's service, while increasing reliability for riders. Lime's unique multi-modal service allows riders more options to meet their needs, preferences or comfort levels. In cities where Lime offers more than one vehicle type, the company sees higher adoption of its service, with riders more likely to ride both modes than if only one were present. The availability of both bikes and scooters provides for a more reliable, flexible service to reduce Atlantans' reliance on cars, yielding a safer, cleaner and healthier city.
Additional upgrades to the e-bike include:
Increased motor power to help riders easily climb hills
A phone holder, allowing riders to easily navigate and follow directions without having to stop and look at their phones
A new handlebar display mirroring the one on Lime's scooters for a standardized display across vehicle types
An automatic two-speed transmission that eliminates the prior generation's gears for easier acceleration and smoother ride
A modular design, extending the usable life to five years
Lime's expansion of e-bike service and launch of the Gen4 comes amidst a boom in e-bike use globally. Lime's expansion of e-bike service in 2021 helped riders take nearly 12 million e-bike rides in cities around the world and in some major cities, including London, Lime e-bike use more than doubled last year. According to The New York Times, Americans purchased e-bikes at a greater rate than electric cars in 2020 and consulting firm Deloitte projects 130 million will be between 2020-2023, making e-bikes the most successful electric vehicles on the road, rather than cars. The surge in e-bike use is in-part thanks to cities redesigning streets to prioritize micromobility and active transportation with lanes and street space taken from cars.
Lime is the world's largest provider of shared electric vehicles. Lime is on a mission to build a future where transportation is shared, affordable and carbon-free. Lime partners with cities to deploy electric bikes and scooters to provide car-alternatives for local travel. Named a Time100 Most Influential Company, Lime has powered more than 250 million rides in more than 200 cities across five continents, replacing more than an estimated 60 million car trips and saving more than 25,000 metric tons of carbon. Learn more at http://li.me.