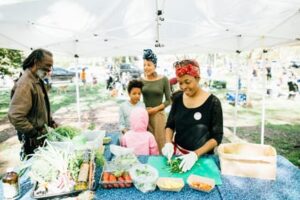 By Bang Tran
If you've ever wondered how to cook a new vegetable or just want to try different ways to prepare familiar ones, there's no better place to visit than the Grant Park Farmers Market! Every week at the farmers market, Andrea Blanton, a food educator based in Atlanta, leads cooking demonstrations to market-goers for free.
Using locally grown and sourced ingredients from within the market, Andrea cooks up quick, locally-sourced bites and budget-conscious meals. She'll tell you all about selecting produce, blending flavors, and everything you've wanted to know about cooking In her spare time, Andrea is a doula, owns her own natural tea company (using local herbs!), as well as connects students in schools to healthy food through school gardens.
Some of her recipes include zucchini noodle pasta salad, tomato and dumplings, panzanella salad, and more. Come out and enjoy local food and a wonderful Sunday morning in the park at the farmers market!
The Grant Park Farmers Market is managed by Community Farmers Markets in partnership with the Grant Park Conservancy. It is held every Sunday from 900am to 1:00pm at 600 Cherokee Avenue.