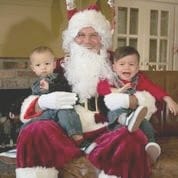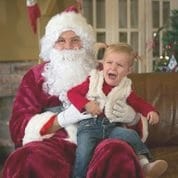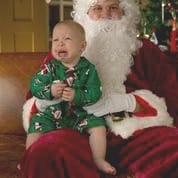 By Marc Takacs
The East Atlanta Santa Fest celebrates its seventh year of holiday events throughout the East Atlanta Village and this year promises to be the biggest one yet. Events include a tree decorating contest, artist market, parade, ornament making, caroling, horse drawn sleigh rides through the village, pictures with Santa, and of course the official lighting of the big EAV tree with that jolly old elf riding in on his 1964 canary yellow Ford F100 sleigh. There is almost too much to do in the two days, December 7 and 8, but Santa's elves have been busy and they'll give it their best shot.
Most events are free except for photos with Santa because the proceeds benefit Neighbor in Need and the East Atlanta Kids Club. Pictures with Santa cost $15 for a set of pictures on a flash drive. Make reservations by emailing
EAVSanta@gmail.com
. Reservations are in 10-minute increments both Saturday and Sunday and Santa will start taking them on November 15 via the email address above. Those who get their picture on Sunday will also get a coupon from Urban Cannibals for a free kid's meal of grilled cheese sandwich, chips/fruit, and a drink with the purchase of an adult brunch item that is good until December 15. In previous years, Santa also has had plenty of time to see walk-in visitors around the appointments. This year there is a diverse collection of Santas. If you have had photos made in previous years and would like to know which shift "your" Santa will be available, e-mail the elves.
The tree decorating contest is a fun way for a group or business to help make East Atlanta Village look festive. There is no entry fee. Reserve a tree by emailing
EAVSanta@gmail.com
. Bring your ladder, decorations, decorators and outdoor-certified lights on Saturday, December 7. Paraders and those attending the tree lighting will vote on their favorite tree, with trophies awarded for first, second, and third place. The defending champs, The Village Church, have been working on their plan for months now.
Don your red, white, and green holiday apparel for the parade, which will be led by Rudolph and the Maynard Jackson High School marching band. Meet near Midway Pub at 5:00pm. The parade will go up the east side of Flat Shoals Avenue to Metropolitan Avenue, cross the street, and head south past the decorated trees on the west side of Flat Shoals, allowing spectators to vote for their favorite tree as they pass by. The parade will finish in time for the East Atlanta Community Association (EACA) tree lighting.
Santa's elves especially want to thank local businesses and groups who sponsor this holiday event: 13 Roses Tattoo Parlour, East Atlanta Community Association, Joe's Coffee, Nest Realty, North Star Christmas Trees, Urban Cannibals, and a whole bunch of neighborhood elves.
East Atlanta Santa schedule of activities:
Saturday, December 7
9:30am – 12:30pm – Pictures with Santa @ Nest Realty next to Joe's Coffee
2:30pm – 5:00pm – Pictures with Santa @ Nest Realty next to Joe's Coffee
9:00am – 5:00pm – Tree decorating up and down Flat Shoals Avenue (must be done by 5:00pm for judging)
5:10pm – Parade starts from Midway Pub (look for Rudolph and the Jackson HS Band)
5:45pm – Tree lighting with Santa @ the corner of Flat Shoals and Glenwood Avenues
Sunday, December 8
9:30am – 12:30pm – Pictures with Santa @ Nest Realty next to Joe's Coffee
2:30pm – 5:00pm – Pictures with Santa @ Nest Realty next to Joe's Coffee
4:00pm – Caroling
Ongoing Saturday and Sunday
Artists market @ Midway Pub
Ornament making @ the lot across from Holy Taco on Glenwood Avenue in the North Star christmas tree lot
Games throughout the village