By Leslie Colley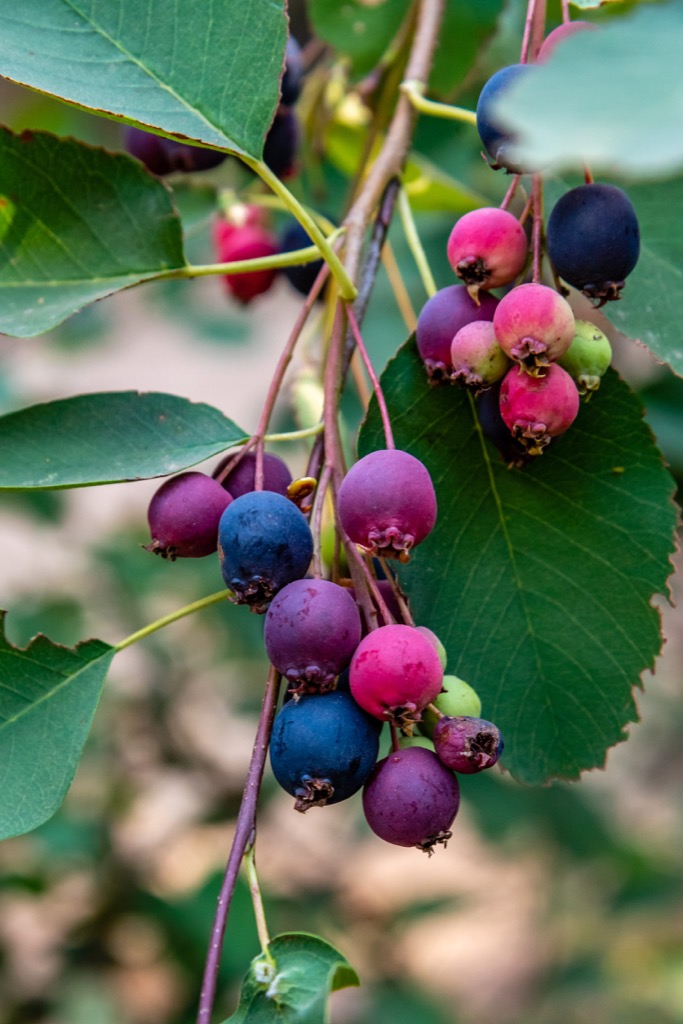 You might know it as the juneberry, the serviceberry or the saskatoon, or you might not know it at all. More familiar to residents of the Dakotas and Pacific Northwest, the juneberry is a shrub that bears edible berries in late spring. In its natural range, the juneberry bush typically fruits in mid-June, which explains how it got its name. But the appellation can be misleading here in Georgia, where our heat, humidity and soil conspire to make the berries ripen around the first or second week of May.
Though not indigenous to North Georgia, juneberries are nonetheless common throughout East Atlanta. Landscapers often recommend the shrubs for their dynamic good looks; they bear pretty white blossoms in the spring, purple fruits in the summer and brilliant orange leaves in the fall. They often grow so large that they resemble trees more than bushes. To see a specimen up close, East Atlanta residents need only visit the local branch of the Atlanta-Fulton Public Library, where a couple of big juneberries stand near the corner of Flat Shoals and McPherson Avenues. The plant is even more prolific in the Grant Park neighborhood, where they can be found along Ormewood Avenue on either side of United Avenue as well as throughout Grant Park itself.
The berries come and go quickly, as it rarely takes more than two weeks for the birds to pick the bushes clean. But if your timing is good, you can easily gather several quarts of berries from a single mature bush. The berries are similar in size and color to blueberries and even more nutritious. Their taste is a wonderful cross between blueberries and cherries with a hit of almond nuttiness. They have a notoriously poor shelf life, but I have successfully frozen them. You can substitute them for blueberries in your favorite pie, cobbler or jam recipe.
Here's a final tip for local foragers: when you see juneberries in bloom (which happens even earlier, around late March or early April), it's the perfect time of year to hunt for morel mushrooms.