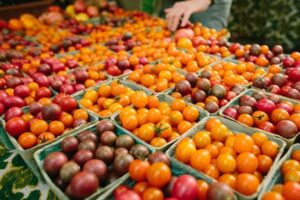 By Bang Tran
In order for the East Atlanta Village Farmers Market, to have the freshest vegetables and fruits possible, local farmers grow a variety of crops that do well in different seasons. Every time the season changes, the offerings change. Even though that means that you won't find tomatoes in the winter, it means that you know the food from your farmers is as fresh as possible. That could easily mean that it's in the ground on Wednesday and at market on Tuesday. Some of the farmers actually grow food just a few miles away from East Atlanta Village (EAV).
Summer is everyone's favorite season for the farmers market; flowers are in full bloom, heat-loving vegetables like peppers, tomatoes, eggplants, and squash are going strong, and fruits like peaches and figs start to show up. Be on the lookout for heirloom tomatoes bursting with color and flavor, vibrant, spicy and sweet peppers, and huge sunflowers to bring some light and love to your home. Come out and help EAV grow by doing your grocery shopping locally!
East Atlanta Farmers Market takes place every Thursday (April through December), 4:00pm to 8:00pm, at 572 Stokeswood Avenue in the heart of the Village.